Frigidaire FFRA0511R1 5, 000 BTU 115V Window-Mounted Mini-Compact Air Conditioner
Pros
This Is A Great Price Point Air Conditioner For Those On A Budget
Rated To Cool Up To 150 Square Feet
The Eneryguide Estimated Yearly Energy Cost is Forty-One Dolalrs
The Product Is Rated As A 11.1 From The Energy Efficiency Ratio. (Standard is 10.0)
This Product Is Rather Small At Forty-One Pounds Which Makes For Easier Install
Cons
Because Of The Low Price The Quality On This Unit Is Lacking Quality & Cooling Capacity
This Product Is Not Energy Star Certified By The EPA
Many Users Have Stated That The Air Conditioner Can Be Quite Loud
Average Longevity Of This Unit Is Around Three Years
Good evening ladies and gentlemen and welcome to RefrigerantHQ. Today we will be doing another one of our product reviews. Our featured product today is Frigidaire's FFRA051RA 5,000 BTU window air conditioner. If you are reading this review then I can only imagine that it is summer, or close to summer, and you are sitting in a very hot room looking to get some relief. You are wondering to yourself is the FFRA0511R1 the air conditioner for you? The price point I am sure has grabbed your attention but what other considerations should you look at? Will it keep your room cool? Or, should you look at a different product? In this product review we will answer those questions and more. Let's dive in and take a look!
Now before I get into the details of a product review I always like to take some time and write a short paragraph about the company behind the product. After all, if you don't know the company and what kind of quality they represent how can you fully review the product that they are selling? If you haven't heard of the company name Frigidaire before I have to ask where have you been?
These guys have been around for over one-hundred years and were in fact one of the pioneers in the early refrigeration industry. One of their principal investors was Willam Durant, a founder of General Motors. GM went on to develop the first 'Freon' refrigerant in the 1930s while they were partnered with DuPont. On top of all of that Frigidaire invented and began selling the first self-contained refrigerator in 1916. They have been around ever since manufacturing and innovating on new appliances. The point I'm trying to make here folks is that Frigidaire knows what they are doing when it comes to air conditioners and refrigeration. Don't shy away from this company. They make great products and stand behind them.
Is this the Air Conditioner for me?
Before you make a purchase especially one that is going to cost you a bit of money it is wise to consider all avenues to see if the Frigidaire FFRA0511R1 is the right air conditioner for you. In my opinion there are two major factors that should weigh on your mind before purchasing.
The first is the size of your window versus the size of the air-conditioner. Now it is safest to measure your window to ensure accuracy but I will tell you that most windows found in homes today range between twenty-four to thirty inches wide and forty-eight to fifty-six inches high. Looking at the official Frigidaire product page we can see that the FFRA0511R1 model fits window sizes with a width of twenty-three inches all the way up to thirty-six inches. As you can see by reading these numbers the FFRA0511R1 falls right in line with the width requirements of standard windows. If you are concerned about height the unit comes in at thirteen inches high. If your window is fifty-six inches high you can just pull your window down until the air conditioner is nice and snug in the window frame. Height is not really a factor when it comes to window air conditioners.
The second and equally important factor to consider is the cooling capacity of your air-conditioner and the type of room that you will be cooling. When dealing with air conditioners their cooling capacity is measured by British Thermal Units, or BTUs, per hour. You'll notice that in the title of this Frigidaire air-conditioner the FFRA0511R1 is rated at 5,000 BTUs. As a standard measurement an air conditioner needs around thirty BTUs for each square foot of living space that you wish to cool. Using that standard measurement let's do some match based off of the 5,000 BTU rating.
5,000 / 30 = 166 square feet.
For argument's sake we will call this unit rated at cooling a room at about 150-200 square feet. This square footage range is about the size of an average bedroom or office in most homes. If you are looking for an air-conditioner to cool your master bedroom then this may not be the one for you as most master bedrooms are at two-hundred fifty square feet or larger.
To ensure that you are buying the right sized air conditioner for your room it is best to measure it. I can give you standards and guidelines all day long but only you know the size of your room. To get the square footage of your room measure width and depth of your room and then multiply the numbers together to get your square footage. As an example if you have a ten foot by eleven foot room you have one-hundred and ten square foot. In this example the FFRA0511R1 would be a perfect fit for your room.
There are also other considerations when looking at your room. Yes, the size of the room definitely matters but these other scenarios could have a play into what kind of air conditioner you should purchase.
The first being is your room sunny for most of the day? If so then we at RefrigerantHQ recommend increasing your required BTUs by ten percent.
How many people will be in this room through out the day? One? Two? If it is anymore then two then it is recommended that you increase the required BTUs by six-hundred per additional person.
How tall is the ceiling in your room? Is it a standard seven foot or eight foot celing? If so, then no problem. However, if you are working in a vaulted ceiling room or even something as high as ten foot then you may end up wanting to go up a size in BTUs.
The last consideration to make is will your unit be used in a kitchen? If so then we recommend increasing the required BTUs up by four-thousand. (You've got to accommodate for all that heat from the oven.)
Some of you may be asking why does the size of the unit have to be so specific? Can't I just get a larger unit then I need and call it good? Well folks, if you get an over-sized air conditioner for your room the unit will have trouble removing humidity from the room as well as costing you more to run each month. On the other side of the coin if you get a unit that is too small for your room the air conditioner will work and work trying to cool the room. This will result in higher and more expensive energy bills at the end of each month. Why pay more per month if you can be smart about it and get the right size for your room?
The last thing I'll mention before we get onto the details of the product is a recommended BTU size by square footage of your room along with RefrigerantHQ's recommended air conditioning unit. This should aid you in determining the type of air conditioner that you need.
100-150 square footage = 5,000 BTUs – We recommend the Frigidaire FFRA0511R1 (discontinued)
150-250 square footage = 6,000 BTUs – We recommend the Frigidaire FFRE0633S1
250-300 square footage = 7,000 BTUs – We recommend the Frigidaire FFRE0833S1
300-350 square footage = 8,000 BTUs – We recommend the Frigidaire FFRE0833S1
Product Details
Let's take a look at some of the details on the Frigidaire FFRA0511R1 air conditioner. Whenever we are dealing with a window air conditioner dimensions and weight are always very important to take into consideration. The FFRA0511R1 has a height of twelve inches, a width of sixteen inches, and a depth of fifteen and a quarter inches. The weight comes in at forty-one pounds. There is a reason this AC unit is called a mini. It is a rather light unit and will allow for easier installation.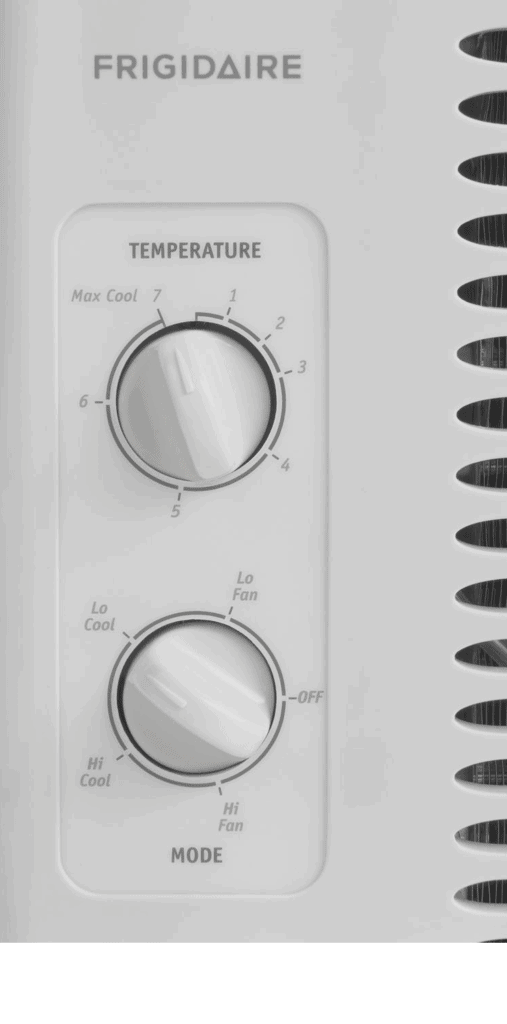 This product uses R-410A refrigerant. R-410A is an HFC refrigerant that really began to see popularity about ten years ago. The majority of the time it is used in stationary split system air conditioners like what you would find in most homes. If the time ever comes when you need to make a repair on this unit and recharge the system you can rest assured that the cost of R-410A is still relatively cheap per pound especially when compared to R-22.
Like with most other window mounted air conditioners out there this unit comes with adjustable side panels. (They remind me of an accordion.) I love this feature as it allows you to get a custom fit for your window. If there is empty space after you install your system you just pull the panels out, secure them, and there you go. No leaking air in or out.
The FFRA0511R1 comes with two control knobs allowing you to adjust the temperature as well as the speed of the fan. While there is no remote for this unit once you play around with it and get the temperature that you like there will be very little intervention needed on you part. In other words, once you set your desired temperature you can walk away and be done with it.
The last feature that I will mention is that this product comes with a 115 volt power outlet and a six and a half foot cord length. The 115 volt power outlet is important as some of the larger air conditioners require a 220 volt outlet which most houses only have two, one for their oven and one for their dryer. This Frigidaire unit will work just fine with a basic electrical outlet in your room.
Pros
Ok ladies and gentlemen now we are on to the pros side of the Frigidaire FFRA0511R1. The first and biggest point to a lot of you is the price. This product is a budget air conditioner to help you get through the summer without costing you an arm and a leg. As I write this the unit is just under two-hundred dollars on major retailers like Amazon.com. (Note, that prices can change at any time.) That is a great price when comparing this to other window air conditioners or to even a traditional split system.
I mentioned this already in the product details section but this unit is able to maintain preset temperatures. This is a key point to mention as other units only come with what is called a 'cool mode.' With this unit you get a four different fan settings to use as well as a variety of turn knob settings to control the temperature in your room. There is a picture further up in this article that shows the control panel.
Something else to take into consideration when it comes to air conditioners are their Energy Efficient Ratio rating, or EER. EER is a measurement of how many BTUs the unit uses for each watt of power consumed. In other words, it is a measurement of how efficient and how much energy your ac unit uses to cool the room. The higher the EER number the more efficient your air conditioner is. The standard EER for most air conditioners is set at 10.0. The Frigidaire FFRA0511R1 is rated at 11.1 EER. So, this is a very efficient unit to run.
The air filter on this product is easy to remove and clean. All you have to do is open the front panel and remove the filter. It is important to remember that the air filter is reusable and may be cleaned using soap and warm water. (Remember to turn off your unit before pulling the filter out.) This may seem like a basic thing but some of the other air conditioner models out there have their filters placed in inconvenient positions that result in you having to take the air conditioner out of it's window mounting to retrieve. Frigidaire recommends cleaning the air filters once a month.
Since this is a mini-window air conditioner the product is in fact very light. It comes in at forty-one pounds. Because of how light the product is it is possible for one person to install this unit by themselves. While it would be easier to have a couple people to do this job it is possible for one person. If you were dealing with a larger BTU air conditioner the weight and dimensions of the unit would go up making it nearly impossible to install the unit by yourself.
The last thing I'll mention as a Pro before moving onto the Cons is that this product comes with a one year warranty from Frigidaire. While this may not seem like a miraculous amount of time for a warranty it is good to know that you investment is secure for the first season of summer in case something goes wrong. To register your product and to also file a claim visit their official webpage for this product by clicking here.
Cons
There aren't too many major cons when it comes to this unit. The first and most obvious one is that this is only a 5,000 BTU rated air conditioner. What that means is that if you are trying to cool your large master bedroom or even your entire second floor then this air conditioner will not work for you. This AC is designed for small offices, bedrooms, or even a dorm room. It is not meant for larger areas and if you try to install it in one of these areas you are going to have the unit running all night and day trying to keep up. It's only going to cost you more in energy bills and not do a complete job.
The Frigidaire FFRA0511R1 is NOT Energy Star certified from the Environmental Protection Agency. When a product IS certificated by the EPA you get a unit that is more energy efficient as well as coming with more and higher quality features such as premium side curtains to help reduce leaks. Most users report an average energy savings of ten percent when using an Energy Start Certified AC unit. As I said above, this FFRA0511R1 is NOT certified by the EPA.
Throughout my research on this product the number one complaint that I found was the noise that this unit makes when cooling. Some users have stated that it's just a basic white noise that they get used to over time while others have stated that it is so loud that they can't hold a conversation in front of it. Even more users have stated that for the first season or two the noise isn't really noticeable but as the product ages the noise becomes louder and louder until they eventually toss the unit and purchase a new one. Again, let me remind you that this is a budget air conditioner.
Expanding on the above paragraph the lifespan of this unit from what I have found is around two-three years of constant use. While some users have kept theirs for many years many others have stated that they have had to throw theirs away after only a couple of seasons. If you are one of the unlucky ones that has your air conditioner stop working after the one year warranty window has passed you may be out of luck.
Conclusion
In conclusion ladies and gents I would say that the Frigidaire FFRA0511R1 is a buy only IF you are looking to cool your small room, office, or college dorm room. If you are looking to cool a larger room I would refer back to our suggestions towards the beginning of this article.
As far as the quality of this unit if we look at Amazon.com we can see that over two-thousand people have reviewed this product with an average rating of four out of five stars. While there are some issues with noise and longevity with this product I would highly recommend purchasing it if you are in a pinch or cooped up in a smaller room for most of your days during the summer.
Important Links