Over the years, AlorAir has been producing some of the most reliable dehumidifiers on the market. The ALORAIR Sentinel HDi100 Commercial Dehumidifier is one of them. I loved this dehumidifier mainly because it's a compact device.
The unit is a recommended device for a home or commercial space, with its uses ranging from water damage restoration to removing dampness, odors, and air pollutants that would do well in humid areas of your space. Additionally, this dehumidifier operates as a freestanding unit but you can also connect it to your ductwork.
But what else does this unit have to offer? Is it as effective as the manufacturer claims? How does it benefit you and your family? How long does it last? Further, is it worth the money?
I believe these are some of the questions you might be having if you are thinking about purchasing this unit. In this article, we will dig deeper to know more about it.
Brand
Before purchasing any product, get to know about the brand. It's always our tradition here at Refrigerant HQ to do so first because we know how essential this can be to your buying choice. So, should you trust AlorAir?
We have been reviewing a few other dehumidifiers from this brand such as this one on this website. In our findings, we believe this brand manufactures some of the best ones in the market for both home and commercial spaces. Apart from the US, they also cater for Australia, Europe, and Asian markets. Other products on their website include air scrubbers and air movers.
In terms of support, AlorAir ensures you have everything you need for installation, including a user manual. You can access several tutorials on installing, repairing, replacing, and maintaining their products on their website. Feel free to contact customer care in case you need any help. They are easy to reach as per reviews from various customers. Also, once you buy any of their products, you will get a five-year warranty.
Product Features
What are some of the features you should expect to see right out of the box?
The Sentinel HDi100 comes with a durable, metallic outer shell. It has two rugged carrier handles at the top and four removable feet at the bottom. You also won't have any difficulties carrying or moving it from one place to another since it weighs 88 pounds.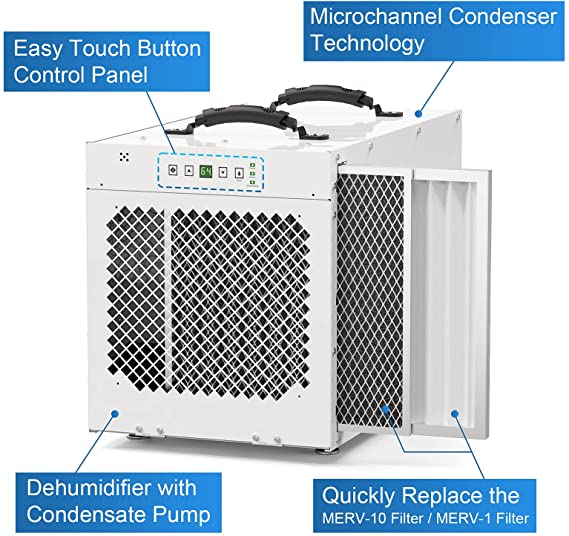 The 88-pound unit also has one inlet and one outlet. You will find two air filters on the inlet side, the MERV 1 and a MERV 10, and an easy touch button digital control panel with a small screen at the top. Buttons on the display include a manual drain, add and reduce buttons, and a power button. At the back, you will find a remote control port and a 16.4 ft. power cord. Notice that the 19.6 ft. drain hose (pipe) is on the side of the unit.
The internal components of this unit include the microchannel condenser technology and condensate pumps.
Microchannel condensing is a new technology found in most modern dehumidifiers nowadays. The technology enhances the functionality of the unit since it comes with smaller hydrophilic aluminum coils, which are resistant to corrosion. They also reduce leaking of the refrigerant, promote higher heat transfer, and make the unit environmentally friendly. Note that the refrigerant used is R410A.
Operating the unit
Fortunately, the unit comes with everything you need for installation. Once you place it in the room you want to dehumidify, connect it to the nearest socket (by the way, the manufacturer discourages you from using a power adapter or an extension). If you want to connect it to your ductwork, you will need a 10-inch duct. On the other hand, place it near a sink, floor drain, or window if you want to use it as a freestanding unit. The water will drain out automatically via the drain hose.
You can then set your unit to operate in continuous mode or only when dehumidifying. The unit's humidity range is between 36%-90%.
The unit also has a memory restarting functionality, which restores your original settings in case of power loss. Additionally, this dehumidifier comes with an automatic defrosting feature, which will warm up the coils automatically if ice starts to form around them. Hence, the reason this unit can operate in temperatures as low as 33.8 degrees.
Pros
So is the ALORAIR Sentinel HDi100 fit for whole-house dehumidification? Based on the features mentioned above, we think it would be suitable for homes and commercial spaces as large as 2900 sq. ft. It can remove up to 220 pints of water per day (125 liters or 34.6 gallons) in highly saturated rooms and 100 pints of water every 24 hours in average conditions. Ensure you have the correct measurements to enjoy this unit's efficiencies.
The other benefit you might have with this unit is its airflow. With 250 CFM, restoring the air quality of your home or commercial space will take a short time. The MERV 1 and MERV 10 air filters are also efficient. Apart from being easy to replace and clean, they don't block air from entering. In fact, they will remove air pollutants effectively before they reach the delicate parts of the unit.
I watched a tutorial on how to clean this unit, and I believe it's easy to maintain and operate. You can refer to the user manual in case you need any information on this.
You shouldn't also have a problem finding a proper place for operation. As long as the platform or the floor you place it on is steady and flat, this unit will function properly. If you set it in a crawl space, you can use the remote control (which you buy separately) to monitor the unit's progress.
Since it has condensate pumps, draining water out of the unit is automatic. You can place the drain hose as high as 14.7 ft.; hence, suitable for people who would like to drain the water through a slightly higher window than where you place the dehumidifier.
How energy efficient is this unit? Definitely, the ALORAIR Sentinel HDi100 is energy efficient. It only needs 115V to operate and comes with an ETL Certification. In case the humidity is within your preferred range, it will shut off automatically. Furthermore, the unit can operate in cooler conditions of up to 33 degrees. Hence, you can use it in storage rooms.
Users also loved the unit since it's not noisy. The noise level is less than 60 dBA. It shouldn't be audible if you place it in the basement, crawl space, or attic.
I don't have any problems with the brand's customer care since they respond quickly.
Cons
Although the ALORAIR Sentinel HDi100 is efficient, it has limitations. The first issue I have with it is the installation cost. Although most of the items you need for installation are in the package, you may have to purchase the remote controller and the supply and return collar assembly.
The other problem (although it might not be an issue for most people) is that it lacks smart features. For me, devices that cost this much should have such these functionality since they enhance convenience, especially when away from home.
I also wish the manufacturer would use a larger display screen for easy maneuverability when setting up the unit.
Conclusion
In all honesty, we think that the ALORAIR Sentinel HDi100 Commercial Dehumidifier is a compact and efficient unit. You can use it in various spaces, including your office, grow house, attic, basement, storage room, warehouse, factory, or apartment. The unit will help you maintain the humidity level to your preferred level without consuming much energy.
It should also protect you from respiratory problems, prevent flooding in any room, and prevent mold, orders, or dampness that can cause discomfort in your home or office.
So, if you are thinking of buying it, this unit should be an excellent investment for you. Head over to Amazon Buy Page to view its current price, features, and reviews.
Important Links