When people are looking for portable heating and cooling solutions for their home, they prefer to buy portable air conditioners over window air conditioners. They (portable air conditioners) might be less efficient than window installations, but honestly, they are easier to move and set up.
Additionally, most of the smart portable air conditioners you will come across in the market have multiple functionality. They include cooling, heating, dehumidifying, and fan technologies.
An excellent example of a reliable portable air conditioner is the De'Longhi 12500 BTU Smart Portable Air Conditioner. I was looking at this product on Amazon, and I noticed something peculiar about it. For some, this unit is a must-have. The smart capabilities and the 12500 BTUs it offers to your room are some of the attributes that make it stand out.
But for others, this portable air conditioner doesn't fulfil their needs. Which led me to write an in-depth review on this unit.
If you'd like to know what we, at RefrigerantHQ.com, think about it, here is an in-depth review of the product. We will also help you learn more about its features, pros, and cons.
So, without wasting time, let's get right into it.
What you need to know about the brand – De'Longhi
I never review the features of any product before I gather some information concerning the brand. That's because I want you to understand the brand better and know their strengths and limitations.
I took time to learn more about De'Longhi during my research, and all I could see were positive reviews on most of their appliances.
They have been in the market since 1902 and have been manufacturing some of the best small home appliances you will find in the market.
Another quality that most of their appliances have is that they are stylish in design, durable, eco-friendly, and innovative. Additionally, the brand has an excellent and reliable customer service. Most buyers, even on Amazon, say that they were easy to contact, and they would help you solve any issues you may have with any of their products as soon as you contact them.
By the way, De'Longhi has other portable air conditioning models other than the one we are reviewing in this article today.
Product features
The De'Longhi 12500 BTU Smart Portable Air Conditioner is a 4-in-1 unit that you can use all year round. It will cool your space using a three-speed fan and air conditioner. It will also eliminate excess moisture in your room using an efficient dehumidifier during the summer. And in winter, or during cold mornings and nights, you can use the heater mode for warmth and comfort.
The portable unit has four caster wheels at the bottom and integrated handles for quick movement from one room to another. Lifting it, however, for some users might be difficult since it weighs 71 pounds. Use the wheels instead to move it as a safety precaution.
If you want to use the air conditioner in fan mode only, you can detach the unit from the hose and move it to an area you wish to cool.
Its cooling capacity
The Smart Portable Air Conditioner offers up to 12500 BTUs. On average, its cooling capacity should cool small rooms, apartments, and office spaces of between 416 sq. ft. (According to our calculations) to around 550 sq. ft., as the manufacturer suggests. We also noted that the refrigerant used is R32, one of the most popular Hydroflurocarbon Refrigerants.
Hot air that leaves the room goes outdoors via the single-hose exhaust, which you attach to your windows using the window brackets. The hose is four inches long by the way.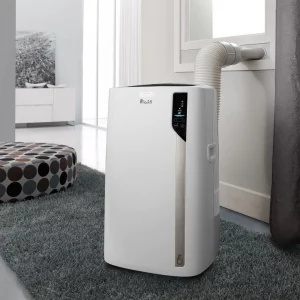 Smart features
You can control this portable air conditioner using its remote control, the De'Longhi mobile app, or voice control. Voice control is compatible with Alexa and Google Home. It also comes with a programmable timer, which allows you to schedule settings to save energy. For instance, you can schedule it to start cooling your living room minutes before you get home.
Installation
The De'Longhi 12500 BTU Smart Portable Air Conditioner comes with everything you need to install the unit right out of the box. You will find adjustable window brackets, bar grilles, a hose adapter, and a flange cap. Thus, no extra costs for buying new accessories. Any double-hung and sliding window would be an ideal installation point for the A/C. Note that the window panel can fit both vertically and horizontally. Hence, you can fit it on a sliding door as well.
Pros
Based on the features mentioned above, you can already see that the De'Longhi 12500 BTU Smart Portable Air Conditioner offers many benefits to the user. Firstly, it's easy to set up, and it should take a few minutes to do so.
I usually see people struggle to install the portable air conditioner, which leads to problems with the appliance's cooling efficiency. Read the user manual, which comes with all the instructions you need for installation, connecting the device with WI-FI, and using the unit, among other details to aid in installation. If you face any issues during the installation process, contact customer care. They will respond to you quickly as most reviewers on Amazon comment.
We also loved the fact that the dehumidifier function can remove enough moisture in your room to keep it cool and dry. That should be around 52 litres in every 24 hours.
And before we forget, we see many people complain that portable air conditioners are noisy. This one is an exception. De'Longhi includes an Arctic Whisper Extreme feature, which ensures that you sleep well. Noise levels on the compressor is at 56 to 57 dB noise level on high. Meaning, it operates at the same noise level as your typical household refrigerator.
What about energy efficiency?
In our opinion, the De'Longhi 12500 BTU Smart Portable Air Conditioner is very energy efficient. The manufacturer insists that you can save up to 30% of energy consumption in your home, primarily if you use the ECO Real Feel. It also comes with a programmable timer; hence, you can shut it down when you don't need it. Furthermore, the refrigerant used is eco-friendly.
The filter, sitting at the top behind the air intake grille, should be easy to clean and maintain. It's a washable filter; hence, you don't have to worry about buying a new one every other month. Homeowners with pets should clean it often since pet hair can get trapped in the unit, forcing it to work harder (or use more energy) to provide cool or hot air into your space.
Cons
Although the De'Longhi 12500 BTU Smart Portable Air Conditioner has numerous strengths, we couldn't conclude this review without mentioning some of its limitations. We found many reviewers complaining that connecting the device to your WI-FI might take some time, especially during the setup. The user manual also doesn't have adequate information on how to do it.
Another thing is that the LED display doesn't have a thermostat. It only displays the temperature you want to cool or heat the room. That, for many buyers, is a downside, since an in-built thermostat would enhance automatic cooling.
I also saw people saying that the unit is self-evaporative. It's not. Although some of the water collected goes out via the exhaust, you may have to drain some of the water in the water tank occasionally.
Conclusion
That's about it, folks. We believe that's all you need to know about this portable air conditioner. From our research, the De'Longhi 12500 BTU Smart Portable Air Conditioner is an appropriate buying choice if you want a unit you can use all year round to cool, dry and heat small spaces such as a 500 sq. ft. apartment, office, or any other small room.
Besides, who wouldn't want to buy a unit that comes from a reliable brand and has a two-year warranty on it? If you want to buy this unit, go to the Amazon buy page!
Important Links