Greetings ladies and gentlemen and welcome to RefrigerantHQ. Today we will be showcasing our top five ductless air conditioner picks. This list is an aim to help you identify the best units out there and save you the time of having to research and navigate back and forth trying to find that perfect unit. We've got you taken care of!
Now, we're basing our "top 5" on Amazon customer reviews, score, and through our own individual research. If you're in the market for a mini split system, you might as well start with the most popular products! Let's take a look.
Ductless Aire Mini Split Air Conditioner and Heat Pump (no longer available 🙁 )
This is ductless air conditioner you'd consider if you have a strict budget. It costs just under $700 total. (Prices can change at any time.) This unit has twelve-thousand BTUs, which means it can cool a room between four-hundred and fifty to five-hundred and fifty square feet in size. Keep in mind that a standard bedroom is around one-hundred square feet. That means this mini split system will be able to cool bedrooms, living rooms, and home office spaces. Here are some benefits to this unit:
Features silent operation mode for quiet use indoors

Comes with a heater as well as an air conditioner

Triples as a dehumidifier in addition to cooling and heating

Includes a hidden LED panel so you have covert functionality
Ductless air conditioners can be quite loud; however, the INNOVA Mini Split is different. You might use this unit for a home office. If that's the case, you'll want it to be as quiet as possible. Or, you might be a light sleeper. Either way, the silent operation feature of this unit is perfect for situations that need a system which is quieter.
Does your room get humid? The INNOVA Mini Split will mitigate that. It functions as a dehumidifier! You don't need to buy separate air conditioners, heaters, and dehumidifiers. With this unit, they are all included. That also has the added benefit of taking up less space in your room.
LED panels are great because they provide valuable information. On the INNOVA Mini Split, the LED tells you the current temperature of the room. Here's the cool (no pun intended) part: the LED temperature is displayed only when the unit is on.
This ductless air conditioner weighs ninety-five pounds during shipment. So make sure you have something like a dolly to be able to move the box around before installing the system.
4) Ductless Aire Mini Split Air Conditioner and Heat Pump
THIS ONE IS NO LONGER AVAILABLE 🙁
This mini split system has three price and power options. The highest power is about double the price and power of the last one. It clocks in at around $1,600 (Prices can change at any time.)with a BTU of twenty-four thousand. If you wanted to do a more proper comparison with the prior, this ductless air conditioner has a twelve-thousand BTU option for around $1,099. (Prices can change at any time.)
No matter which option you choose, each of them has the same features! The only difference is the power level (BTU) so it depends upon the square footage of the room you want to cool. Let's take a look at the features and benefits of this unit. They include:
"Whisper-quiet" operation allows it to run in the background

Comes with the heat pump addition as well as the air conditioner

3 fan speeds mean you can choose your cooling power level

Washable air filters will keep your air quality fresh and healthy
"Whisper-quiet" operation is ideal for any major system or appliance in your home. This is especially true if the ductless air conditioner is going to be installed in your bedroom. No matter which room it's in, you'll have the peace of mind knowing the mini split system won't bother you with too much noise. Maybe you want to catch a game on TV, or talk on the phone, or sleep. Either way, you'll be able to those with no problem.
Having an option for three different speeds is powerful for a few reasons. One of them is related to your wallet. You can choose to run this ductless air conditioner on the lowest setting. This will use less energy, which in turn translates to a lower monthly electric bill. Or, on hot days, you can toggle the unit to blast air on its highest setting. This choice will cool the room the fastest. If you aren't sure which to choose, you can always meet in the middle and use the standard cooling option. It'll still get the job done.
Some ductless air conditioners come with washable filters. This means that you don't have to keep buying new ones if you want clean air. You can just take the washable filter out and clean it! It'll probably consist of running it below a water faucet. Just to be sure, check the maintenance manual for specifically how to clean it.
MRCOOL is the perfect name for an air conditioning company. And they won't let you down with their quality mini split system Their product description on Amazon says it all. "Is the only ductless mini-split system on the market explicitly designed for amateur installation. You don't need special tools or training to install this high efficiency heat pump. The line sets recharged with R-410A refrigerant, the quick hook-up electrical connections, and the quality engineering mean just about anyone can install a MRCOOL DIY in their home with no problem at all in only a few short hours. If you want great air comfort without paying an arm and a leg for installation, you want an easy-to-use MRCOOL DIY Series ductless heat pump."
I would argue this is one of the main features of the MRCOOL Mini Split. You're going to save hundreds of dollars by installing it yourself! And if there's a ductless air conditioner for beginners, it's this one. No special tools and the ability to have it up and running in a few hours is a major plus.
Another feature of this mini split is that it doubles as a heater! That means you won't have to buy a separate system for when it gets cold in the winter. Simply press the heating mode on the remote control and you're on your way to a comfortable room temperature.
This ductless air conditioner (and heat pump) runs at twenty-four thousand BTUs. That means it's powerful enough to cool (or heat) large bedrooms, living rooms, and office rooms.
The two words that come to mind when considering the Senville Mini Split are options and quality. This ductless air conditioner has four different power level options. They are nine-thousand, twelve-thousand, eighteen-thousand, and twenty-four thousand BTU levels. Customize your unit to just the right size for you! To make matters even better, this air conditioner doubles as a heat pump! Like the last choice, you don't have to buy a separate heater for when it gets cold outside. There are some great features to this air conditioner. They are:
Features quiet operation to work in the background

Includes an infrared remote control for accurate temperature

Weights only sixty-six pounds, being one of the lightest mini split systems
The higher up we get on our list of favorites the more often you're seeing quiet operation mode. It makes sense since quiet operation is a key benefit to the ductless air conditioners people love. And people do love this one. As a matter of fact, as of this writing, the Senville Mini Split has nearly four and a half stars, out of five on Amazon.
This ductless air conditioner comes with an infrared remote control. Infrared is an area of the light spectrum that people cannot see; however, some animals can see it. This infrared remote control senses electromagnetic waves, which allows it to show a better estimate of the temperature of the room. Therefore, you'll be able to program your air conditioner to exactly the temperature you want.
These systems can be quite heavy. It's a breath of fresh air knowing that this one weighs only sixty-six pounds. You probably won't be installing this mini split system; however, if you were, it would be easier than other mini split systems due to its lighter weight. The product description page on Amazon notes that this product should be installed by a professional.
You can't go wrong with this "Amazon's Choice" product. It's not only Amazon's choice. It's ours as well! There are eight different power levels (and price) to choose from. The PIONEER ductless air conditioner offers the ultimate when it comes to power customization.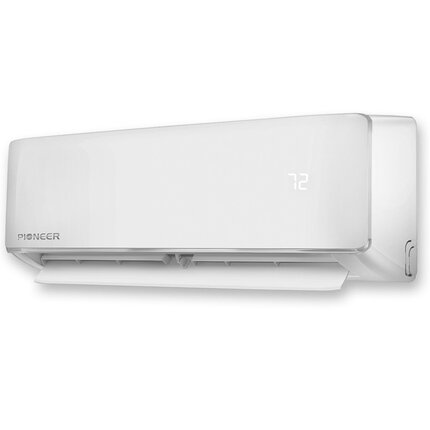 Let's take a look at why this mini split system is so popular. Some of its features are:
This products weights only nineteen pounds

Includes installation, troubleshooting, and support hotline.

Quiet operation so you can concentrate on other things

Doubles as a heat pump, which warms you in the winter
The fact that this system weighs only nineteen pounds should come as a surprise to many people. After all, many ductless air conditioners can weigh up to seventy or eighty pounds, or even higher. Nineteen pounds is easy for most people to pick up; therefore, this ductless air conditioner should be easy to transport around.
On the Amazon page, PIONEER advertises "Unsurpassed support hotline covering installation, use, troubleshooting, warranty and parts issues." That's a big deal to a lot of people. Have you ever called a company, only to find yourself speaking with a robot on the other end of the phone? It sounds like that won't be the case when you contact PIONEER for assistance. This is a huge help, especially during installation.
We've mentioned that many of the higher-tier models come with some type of quiet operation. And this product is no different. Check out the reviews on Amazon. People who have bought this mini split system are satisfied with how quiet it is. And that makes a big difference throughout the day or night.
Also, like some other quality mini split systems, the PIONEER ductless air conditioner has a heating ability. It makes a big difference when you're able to use the same system for heating or cooling depending on how the weather is outside.
A couple other things to note are the reviews and "questioned answered" on the Amazon page.  PIONEER ductless air conditioner has over one-thousand answered questions. That's a massive number! In addition, this product has nearly five-hundred product reviews! For that many reviews, and the product to score so high, it just goes to show how popular it is. After all, it's "Amazon's Choice" as the ductless air conditioner to buy. And, as we learned earlier, there are models and power levels for any budget.
Conclusion
Well, there you have it, folks! I hope that I was able to answer your question and also shed a bit of light on ductless air conditioners in general. If you find yourself wanting to read and learn more about ductless air conditioners then I highly suggest you take the time and read our in-depth buyer's guide.
Remember though folks, that ductless units aren't your only option. After reading this article if you find that you are leaning towards an alternative air conditioner such as a portable or window unit consider checking out our best of guides on these. Read our best window air conditioner article and our article where we select the best portable air conditioners. There are many ways to stay cool nowadays, the question is which one will you choose?
If you have any further questions about ductless air conditioners you can contact us. Also, if you want more guides and articles like this, make sure you subscribe to our email list. As always, thanks for reading! And make sure to return in a few days for a new article from RefrigerantHQ.