To start off with a quote from one of my favorite movies, "You ain't no kind of man unless you got land." – Delmar, O'Brother Where Art Thou? Well, the same can be said about tools. "You ain't no kind of man unless you've got tools." A man isn't nothing without the right tools. I don't care what line of work you are in, having the proper tools is essential. Along with that, having tools that are a step above can not only save you time but frustration.
Just the other day I was prepping my zero turn mower for the season and noticed I had a flat front tire. Once I jacked the mower up I got my tools out to remove the tire. Now, I could have used two wrenches to get the job done. One to hold it in place and the other to loosen the bolt. While this would have worked it would have also taken longer and also cost some frustration if one of the wrenches slipped off. Instead, I held it in place with one wrench and then used my socket wrench to loosen the bolt. Bam. It was over in just a few seconds and the tire came right off. The same logic can be applied when working on an HVAC job. It can become a whole lot harder if you don't have the right tools on hand.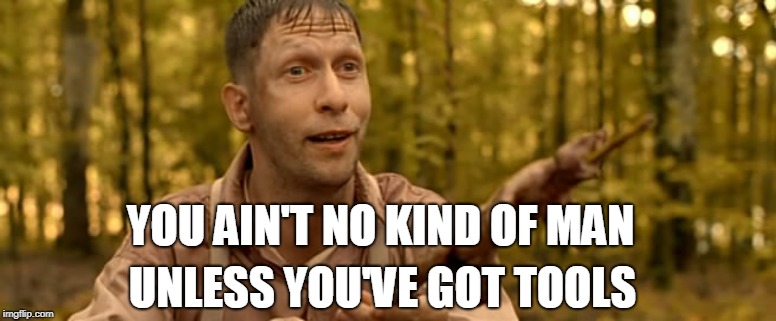 The aim of this article is to layout the essential tools that an HVAC service technician will need in the field and then to also make recommendations on those very tools. I'll be forward with you up front though that the recommendations I am providing are sourced through Amazon.com and that I will receive a percentage of the sale if you decide to purchase. However, if you return that item then my commission is lost. That is why I will only recommend quality products to ensure that you have the proper tools for the job and that you're receiving quality items. That is also why I am doing research on the recommenced products.
In order to create this listing of tools and recommendations I went through numerous other articles on the same topic. The goal was to aggregate the information into one easily readable source. The references for this article can be found at the very bottom of the post under the title, 'Sources.' Also note, that you may not have to purchase all of these tools, especially if you're working for a larger contractor. A lot of the times the contractor will provide you with SOME of these tools. It is up to you to determine which tools will be provided and which ones you need to source for yourself.
When we look at these tools we are going to divide this up by category. First we'll start with the specialized tools that an HVAC technician. Afterwards we'll move towards the more standard tools that most every tradesmen can't go without and then we'll take a look at safety. Without further ado, let's dive in and take a look:
HVAC Tech Specific:
Gauges
This is one of your most important tools to have with you on the job. You won't be much of a technician if you can't measure temperature and pressure of the system you're working on. A lot of folks end up having a few pair of gauges they take with them. If you wanted to you could even go for the more expensive route and purchase a digital gauge, or you could stick the the tried and true classic analog gauge.
For an analog gauge we recommend the Mastercool 59161 2-Way Manifold Gauge Set with 3-1/8 Inch Gauges, 3-60 Inch Hoses and Standard 1/4 Inch Fittings. This gauge set will allow you to check on R-22, R-410A, R-404A and many other common refrigerants used today.
For a digital, or micron, gauge we recommend the Fieldpiece SMAN360 3-Port Digital Manifold with Micron Gauge. This gauge works with forty-five different refrigerants and simultaneous readings of superheat and subcooling. Just be aware though folks that digital gauges can be quite expensive.
Thermometer
Thermometers will be used routinely to help determine temperature change on the system you're working on. And, no, it is not the same type of thermometer you give to your kid during the winter season. There is a ton of variety here when it comes to choosing a product. You can get the best of the best or a decent product and save some money.
We recommend the Fieldpiece ST4 Dual Temperature Meter, -58 to 2000F(-50 to 1300C). This unit comes with the reputable Fieldpiece name, has the ability to check two temperatures at once, and comes with a magnetic clip. While the magnetic clip may not seem like a big deal it is definitely a great feature to have while on the job. You just clip it to the system and you now have one less tool to hold. Just don't forget it at the job site when you're done!
Multi-Meter
Having a multi-meter with you on a job site is essential. A multi-meter will stop you from being electrocuted, which is always good! It can check for electrical currents and will let you know if voltage is found. It is best to find one that can test for alternating current, direct current, amps, temperature, and microfarads. Here at RefrigerantHQ we recommend the UEi Test Instruments DL369 Digital Clamp-On Meter.
Leak Detector
The choice of a leak detector is an important one. If you choose a poorly designed one, or go for a cheaper model, then you could end up costing yourself a lot of time trying to identify the source of a leak. A lot of guys will use the soap and bubbles method or even ultraviolet oil to find a leak. The leak detector will be the last resort for them. Other guys go right for the sniffer on the leak detector. Either way, you will need a quality one.
There are quite a few options to choose from when selecting a leak detector. I'll offer two recommendations in this article. The first is none other then Bacharach's H-10 Pro. This detector from Bacharach is widely considered one of the best on the market. The downside is that it can get quite expensive.
The other model we will recommend that isn't quite as expensive as the Bacharach is the Fieldpiece Heated Diode Refrigerant Leak Detector. It is still a high quality detector that is about half the price of the H-10.
Vacuum Pump
One of the worst things you can do after repairing a customer's system is forgetting to vacuum it out before you recharge. By not removing any air, moisture, or other impurities from the system before charging you risk contaminating the oil. The contaminated oil Having a vacuum pump is a must for any technician so that you can remove those impurities.
Here at RefrigerantHQ we recommend  Robinair (15500) VacuMaster Economy Vacuum Pump – 2-Stage, 5 CFM. While there are larger pumps out there this is a good basic model for contract work.
Recovery Machine
You're going to need a way to get that refrigerant out of your customer's system. Recovery machines are a must for any technician. Without one you can't even do standard diagnosis.
Here at RefrigerantHQ we recommend the Robinair RG3 Twin-Cylinder Portable Refrigerant Recovery Machine – 115V AC, 60 Hz. This machine will work with all of the common refrigerants of today such as R-22, R-404A, R-410A, etc.
Refrigerant Scale
When charging or evacuating a system of refrigerant you need to measure how much you are adding or taking away. If you do not, then how will you know if there was a leak present or if you are overcharging the system with refrigerant?
Core Removal Tool
This tool isn't a must for techs out there but it can certifiably make your job easier. This will allow you to remove the valve core during refrigerant recovery to make for a much faster process. A brochure about the product can be found by clicking here.
We recommend the product that is found in the brochure above known as the Appion MGAVCT 1/4″ MegaFlow Vacuum-Rated Valve Core Removal Tool.
Tubing Cutters
Recovery Cylinder
These will most likely be provided to you by your contractor. But, in the off chance that they are not you will definitely need one of these when working on a system. That extracted refrigerant needs to go somewhere, right? You sure as hell better not vent it! Our recommend recovery tank is the MASTERCOOL 62010 Gray/Yellow Recovery Tank.
General Tools:
These tools aren't necessarily exclusive to the HVAC world but they can come quite handy when at a job site.  Let's take a look:
Sawzall
 This is by far one of my favorite tools. Mainly… because it's a lot of fun and also allows you to get a lot of work done quickly. For the most part, if you need something removed or cut through then your sawzall will do it. I demolished my sub basement entirely with a sawzall and a sledgehammer. Between my metal and wood blades there wasn't anything I could saw right through. I recommend the Milwaukee 2720-20 M18 SAWZALL. I push for this one as I've had a Milwaukee sawzall for years and have never had a problem with it.
Screwdrivers
Yes, I realize this is the most basic of all tools there is but you would be surprised how many people forget the basics. You will need both flathead and phillips head screwdrivers. A lot of people aim for the insulated handles, but these aren't necessary. We recommend the Craftsman 8 Piece Phillips and Slotted Set, 9-47136. Some folks will opt for the adjustable screw driver set instead of having multiple screw drivers to carry around. It's up to you, but I prefer the classics.
Pliers
Hammers
I can go on and on about hammers. I honestly couldn't tell you why, but I have a fascination with hammers. There are so many types of them out there. It doesn't matter what trade or job you are in a hammer is always useful. I'l tell you right now though that I'm going to try and sell you on a titanium hammer. I love these damn things. The whole concept is that you get the striking power of a heavy duty framing hammer but in an fifteen ounce package. So, you get a powerful light weight hammer.
Wrenches
The more wrenches the better, right? Well, that's what I always say. I don't even know how many dam sets of wrenches I've got lying around in my workshop. The good news though is that if I lose one I can find another one just like it in no time! For HVAC work it is recommended to have a wrench set, a crescent wrench set, a set of allen wrenches, and a pipe wrench. For more on the various types of wrenches there are you can click here to be taken to homequicks.com complete wrench guide.
Flashlight
Having a powerful flashlight will make your life easier especially in those hard to see places like attics, basements, or even crawl spaces. I've seen some techs use the flashlight app on their phone, but if it was me, that wouldn't be enough. I recommend the GearLight LED Tactical Flashlight S1000. It's powerful, gives you plenty of light, and it's small. There is another option though that some techs like to use as it frees their hands up. It is the DanForce LED headlamp. Yes, that's right a head lamp. You just pop it on and flip the switch and you've got light without having to move your flashlight all around.
Wire Strippers/Crimpers
This is a very commonly used tool within the trade and is used numerous times during a job. You also don't want to go cheap on a tool like this as it is much easier to strip the wire in one clean sweep then having to go over it again and again. Having a crimping function built in as well is a must. The crimper provides you with a great cutting tool allowing you to cut through wires and sheet metal alike. We recommend the Neiko 01924A Ultimate Self-Adjusting Wire and Cable Stripper.
Snips/Sheers & Metal Cutters
These tools will allow you to cut through sheet metal. They come as right handed, left handed, or straight. These can be bought individually or as a set of three. Here at RefrigerantHQ we recommend the Craftsman Evolv 3 pc. Aviation Snip Set.
Tape Measure
This should be just a default tool on any job even if you're not in HVAC. Tape measures can be used to measure duct placement, air conditioner placement, and furnace placement. Be sure to get a self-locking measure that can also retract at a moment's notice. We recommend the Stanley Tools 33-725 25-Feet FatMax Tape Measure.
Cordless Drill
There are so many opportunities that you will need to use a drill for and you never truly know when you'll need one. We recommend using a twenty-four volt model for the most power. What's that Home Improvement line, MORE POWER? I did some searching on this as it was hard to find a reputable twenty-four volt drill. What I ended up settling on was the Greenworks 24V 2-Speed Cordless Compact Drill, Two 2.0 AH Batteries included 37012B.
Staple Gun
Caulk & Caulking Gun
Having a caulking gun handy will allow you to clean any work you've done on a customer's duct work. It also allows you to fix any mistakes you've made along the way without any serious damage being done. You can't really go to wrong with this tool. Here is what I found from Amazon.
Hand Seamers
A hand seaming tool is designed to use with your duct work. This tool will allow you to mold the duct work by bending, flattening, or shaping as you require. Here at RefrigerantHQ we recommend the ABN Metal Hand Seamer.
Awl
This is a great tool to have in your arsenal. It allows you to punch openings through drywall, sheet metal, or wood whenever necessary. It also allows you to scratch as well. This can be used for marking a line before cutting. The Malco A1 USA Made Regular Grip Scratch Awl is a great choice here.
Extension Cords
More often then not the job site that you are working at is farther away from an outlet or power source. You could be outside on the side of the homeowner's house or you could be in an unfinished basement that isn't wired yet. Whatever the situation you are in it would be a whole lot nicer if you had an extension cord with you so that you could actually use some of your machines during the job. We recommend the outdoor fifty foot extension cord which can be found by clicking here.
Tool Bag & Tool Belt
We couldn't wrap this article up without the most important 'tool' you'll need on the job. With all of the tools we recommended above you are going to need a way to carry them around. Now, you can be like my father and carry around the Milwaukee tool bag. It's just a big open duffel bag with everything piled into it. But, hey, it works for him so who's to judge?

If you find however, that you want to be a bit more organized then we recommend getting the backpack tool bag. I'm a big fan of the backpack approach as you can carry it on your shoulders instead of with one hand to the side. It's easier on the back that way. You also get a ton of pockets and side compartments for organized storage. There are quite a few models like this but today we're going to recommend the Veto Pro Pac TECH PAC Service Technician Bag. Yes, I understand that it is pricey but it is one of those times where you want to spend a bit more to get that quality. Otherwise, you're going to have to keep buying a bag every few years due to tears and rips.
As for a tool belt there are hundreds to choose from. Just make sure that it stays on you, isn't too burdensome, and that it can carry what you want it to carry. We recommend the NoCry Heavy Duty Canvas Tool Pouch with 7 Roomy Pockets, 10 Tool Loops, Adjustable Waist Strap, and Sturdy Velcro Belt Flap. It's highly rated on Amazon and after reading some of the reviews I am quite confident with it.
Safety:
Safety is very important as an HVAC technician. There is a tendency for the younger generations to disregard safety. They have that mentality that nothing will happen to them and that they'll just be fine. I know this because I was like this fifteen years or so ago. Now, I wouldn't consider myself old but I am old enough to know better now. I take precautions nowadays and you should too especially if you're going to be doing this job day in and day out. If you rely on your body then take care of it and take the proper steps and precautions.
Our first recommendation is having a nice pair of safety glasses. I would actually buy a couple that way if you forget a pair you have a back up. These are, along with the gloves I'm going to mention next, are some of the most important when it comes to safety. If you're using a sawzall or even just clipping through sheet metal you never know what's going to happen. Something could come up and fly right into your eye.  We recommend the JORESTECH Eyewear Protective Safety Glasses. You get a pack of twelve for a decent price. That way when you lose a pair, which I always do, you have a back up.
Along with the safety glasses having a nice pair of work gloves will not only make your life easier but will also serve to protect your hands from cuts, abrasions, and even frostbite if you have a nasty encounter with some refrigerant. What kind of gloves you like to purchase are up to you. Personally, I like the pig skin leather with the insulated interior. Word of the wise though, keep them somewhere secure. I made the mistake of leaving my last pair of gloves in my workshop over the winter. I went out there the other day to get something and notice a mouse had chewed them all up. Here at RefrigerantHQ we recommend the G & F 2012M-3 Cold Weather Premium Genuine Grain Pig Skin Leather Gloves with Red Fleece Lining. Again, you get multiple pairs here, three to be exact, to allow you to misplace a pair or here every now and then.
These next two aren't as important, but they are still great to have. First, I would recommend having a set of painter's masks either in your van or in your toolbox. These will come in handy when you're crawling around in a moldy basement, an attic covered in insulation, or worst of all… a crawl space. For those of you who haven't experienced before, there are a lot of homeowners who like to spray their crawl space with pesticides to ensure no bugs come in through the floor. Obviously, a painter's mask isn't going to solve everything and you should exercise your best caution when working jobs like this. If it doesn't look safe, don't do it. We recommend the Universal 4528 Non-Toxic Disposable Dust & Filter Safety Masks (50 Count Box). You get a fifty pack that should last you quite a while.
The last point I'll mention is that it is always good to have a standard first aid kit in your van. You never truly know what's going to happen at a job site and having a kit within reach can be extremely helpful. Even the most experienced technicians make mistakes and it only takes one to get a nasty cut either from the sheet metal or one of your tools. Having some gauze and disinfectant will help you recover and get back to the job, or limp back home! We recommend the Swiss Safe 2-in-1 First Aid Kit.
Conclusion
Well there you have it folks. That should be absolutely everything you would ever need during an HVAC job. I tried to be as thorough as I could with this article but if you find that you're still wanting more information please visit our sources below. These are all great articles that have their own flair on exactly what tools an HVAC technician needs for the job.
Thanks for reading,
Alec Johnson
RefrigerantHQ
Sources