Hello everyone and welcome to Refrigerant HQ! Today we'll be continuing the recent trend of reviewing portable air conditioners from Honeywell. Our main event is the Honeywell MN12CES Portable Air Conditioner. (Also the MN12CESWW and the MN12CESBB) Honeywell, as you'll read or you already know, is a large company that sells quality products. We'll talk about them a bit later.
The important thing to mention is that, with this review, you have another portable air conditioner with which to compare against. Now is the season to buy a portable air conditioner. After all, 100-degree temperatures are right around the corner! And depending on what part of the country you're in, you might already be experiencing these types of temperatures! Here, in Kansas, the weather is going to be hot and sunny almost all week. It would be a terrible time to be in a home without some type of air conditioner. Even if you have an HVAC system, it's smart to have a backup solution in case the HVAC system doesn't work well. Buying a portable air conditioner is that solution. They are small, portable, and inexpensive. If you buy them on Amazon, you'll probably get free shipping!
With that said, let's take a closer look at Honeywell!
Honeywell
We recently talked about Honeywell in our latest review. But here's some new information: they are headquartered in New Jersey. Many of the 58,000 employees in the U.S. surely work at that building. And many work in other areas of the country, such as in Indiana. Speaking of Indiana, do you know why that state is important when it comes to Honeywell? The company was first founded in Indiana!
Honeywell has at least five manufacturing facilities in Indiana. A quick glance at jobs websites shows available career positions at one of these Honeywell facilities. For example, you can get a job as an Inventory Controller, Material Handler, Materials Planner, or Senior Procurement Supervisor. And if you live in Indiana, you wouldn't have to leave your state! Indiana isn't the only state that has jobs if you want to work at Honeywell. Virginia, Ohio, New York, Florida, and North Carolina are some other states where you can find work at Honeywell. And the list goes on! It's great to see a company so large that has so many jobs in America.
These are the same people that source materials for their portable air conditioners. They are the same people who negotiate with suppliers and distributors. They are also the same people who assemble and put their portable air conditioners together. And Honeywell sells more than portable air conditioners. They sell thermometers too, which is what they were originally known for. After all, the thermometer was Honeywell's first product.
Alright, so now that we've learned a little about the company let's dive in and take a look at the actual products that we'll be reviewing today.
Product Features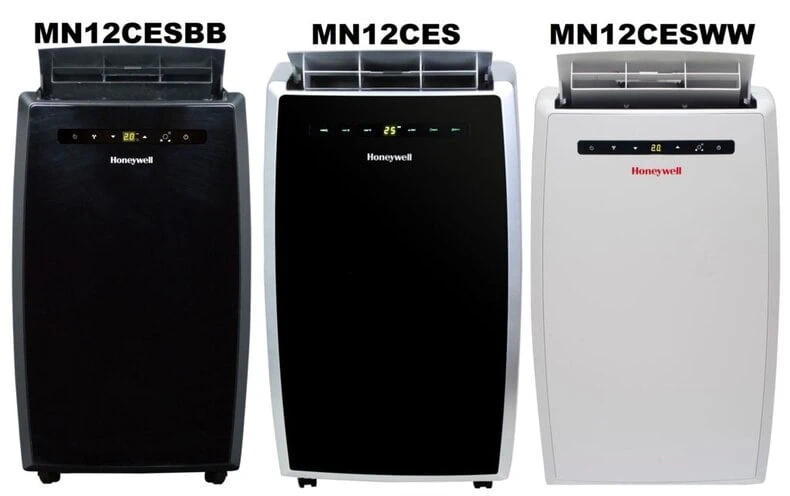 First and foremost let me mention that this product comes with three different colors. While the colors don't actually change any characteristic of the product they can be important to some people. When purchasing this unit from Honeywell you get a choice of Black (MN12CESBB), Black and Silver (MN12CES), or Silver (MN12CESWW). The price point is the same between these colors so the choice is up to you. Personally, my favorite is the all black.
There is a high number of benefits to this portable air conditioner. And I can't wait to get to them all. Arguably the best benefit to this product is that is has a self-evaporation feature. Now, I'm not sure how familiar you are with how portable air conditioners work. Some people who read this might be experts. Others might simply be laymen who are interested in buying the best portable air conditioner for them or their family. Here's what I'm getting at: many portable air conditioners require regular draining of moisture. This product does not require it.
Do you like convenience? I'm asking because I do. And when I purchase new items, I expect that the product has a high level of convenience. After all, that's why I'm buying the product! The Honeywell MN12CES portable air conditioner fulfills the convenience part of the equation for me. I don't want to drain a moisture tray every week or two. You might not want to either. That's why the Honeywell MN12CES is the perfect choice for those who like convenience. Not to mention that with the other units if you forget to drain the moisture you could have a mess on your hands.
The other feature of this unit is that it has triple capability. It's not only an air conditioner. It's also a dehumidifier and a fan! Talk about your money going far. You don't need to buy a separate fan or a separate dehumidifier for the space this product will be in.
I think that an air conditioner, coupled with a dehumidifier, can cool a room faster than with the dehumidifier. Picture this: with a dehumidifier, you're removing excess moisture from the room. At the same time, with the air conditioner, you are cooling the room. It's like a match made in heaven! And, to top it off, you get the fan included.
The self-evaporation and three-in-one features aren't the only benefits to this portable air conditioner. There are many more! Let's go through the list and see what they can mean for you.
Pros
We'll start with the strength of the Honeywell MN12CESWW . This portable air conditioner can cool rooms up to four-hundred and fifty square feet. Do you know how much that is? A standard bedroom is around one-hundred square feet. That means this product can cool a bedroom, master bedroom, living room, kitchen, or office. Depending on how your home is situated, it might be able to cool multiple rooms! And, even better, if you live in a small apartment, like a studio, this portable air conditioner might be able to cool your entire home!
Please note though that it is important to purchase the right sized unit for the area you aim to cool. If you purchase an air conditioner that is too small for your room then your AC is going to be working overtime and you are never going to fully have a cooled room. On the other hand if you purchase a product that is too large for your area then you are going to be wasting energy running the larger unit and you are also going to be left with hot and cold spots throughout the room due to too much dehumidification. You want to aim for that perfect fit when selecting the BTUs on your air conditioner. If you're not quite sure what BTUs are then I suggest clicking here to read our 'What are Air Conditioner BTUs,' guide.
Another benefit to this product is that it runs at fifty-five dbA. Why is this important? Let's say you're a light sleeper. I'm not, but many people are. Light sleepers can have difficulties falling asleep if there are noises in and around the home. For reference, fifty-five dbA is about as loud as a normal conversation when people are talking. But it's like "white noise" in the background. Honeywell claims this is a feature because fifty-five dbA is seen as a quieter noise level when it comes to appliances.
Nobody likes dirty air. And with the Honeywell MN12CESBB, you don't have to live with dirty air. It has an air filter! And, more importantly, you can remove and wash the air filter. Cleaning the air filter is easy. All you need to do is remove it, clean it under a kitchen faucet, and then clip it back in. It's very easy to do. If you have any concerns, you can follow the instruction manual which is included the box or found in our important links section below.
I mentioned this unit has a fan in the features section. There are times that you don't have to run the air conditioner; however, you would like the air to be circulated around your room. Look no further than this portable air conditioner. It can work as a fan. When you buy this product, you are actually saving money you would otherwise spend on some type of standalone fan. What home doesn't have a fan? There are desk fans, ceiling fans, and other types of fans. And now there is a fan inside of a portable air conditioner which will save you time and money from having to get an additional fan to cool your room.
Do you like power? Because the Honeywell MN12CES feature three power levels. If you're like me, you want your home to always be at a comfortable temperature. When I get home from work, it's not always cool. This is especially true in the summer, like now. I would want an air conditioner that has the capability to quickly cool a room. Well, since this air conditioner has three different speeds, I'd be able to crank it up on its highest setting. As a bonus, this portable air conditioner has an on-off timer. You can set it for operation for anywhere between 1 and 24 hours. Do you want it to automatically turn off after 8 hours? You can do that with the built-in timer.
Now, as you'll soon read, this product is heavy. However, this portable air conditioner has four wheels on the bottom which will help you roll it around. It's called a "portable" air conditioner for a reason. Although it's heavy, once the unit is in place you might leave it there for an extended period of time. Not a problem! The only catch here is that if you have a home with stairs and you have difficulty moving a heavier item up or down them. Hopefully, once you have the unit where you want, you'll keep it there!
This Honeywell product comes with what's known as R-410A refrigerant. Now 410A is an HFC refrigerant and is the refrigerant that is used as a replacement to the previously used R-22. R-22 was phased out across the world due to it harming the Ozone layer. While 410A does not harm the Ozone layer it does have a rather high Global Warming Potential. As of today though, 410A is the accepted refrigerant in most portable and home air conditioners.
Finally, this product includes a remote control. This might surprise you, but not every portable air conditioner comes with a remote control. There are units that don't even include an electronic display (this one does). If you want to turn your unit on or off, but don't feel like getting up, be sure to keep the remote control near you. You'll be able to do that with the remote control for easy and convenient use.
Cons
No product is perfect! And the Honeywell MN12CES has some potential drawbacks. The first drawback is one I already mentioned: it's heavy. Therefore, I won't talk much about that again. Just be aware of the weight when you order it. If you are older or have trouble moving larger items you may have a relative or friend help you move the package and get everything installed the way you need it. Now, let's move on to the next one.
This unit comes with a one year warranty. Now, I know that any warranty is better than nothing. But one year isn't a long time. As a matter of fact, you might only be able to use this portable air conditioner for one season if you have mild summers. There are other portable air conditioners out there that offer two or three-year warranties. That doesn't mean this product isn't the best for you, however. You have to look at the whole picture to decide.
There are some complaints about the unit being too loud. I get it. fifty-five dbA is as loud as a normal conversation. A portable air conditioner is an appliance. It isn't going to be silent; it will make noises. But there were some complaints or rattling noises and other assorted sounds. If that happens, I would recommend contacting Honeywell to troubleshoot the problem. I did read good reviews about their customer service. So you should be safe there.
Speaking of customer service, you'll be sure to contact them if the unit stopped working with the year you bought it. After all, it's still under warranty. I've read some reviews of this happening to some people. However, each time, they do say good things about Honeywell quickly responding and either sending a new unit or having some other kind of disposition to their issue. There's a reason Honeywell is a global company!
One of the most important factors to consider is the type of windows you have in the room you want the unit to be in. I would say that most bedrooms have vertical windows. Those are the type of windows the Honeywell MN12CES was made for. After all, it comes with a hose which needs to be secured in a window so that exhaust from the unit can exit the home. If you have horizontal sliding windows, you might want to give Honeywell a call first before buying. At the same time, read the review on Amazon of what people are saying about owning the unit but having horizontal windows.
Conclusion
If you're interested in owning a portable air conditioner, the time to buy is now. I say this because summer is here now and it's only going to get hotter. How's your current air conditioner? Do you have an HVAC system? How old is it? Do you have a backup in case it breaks? These are all very important questions that should be answered before or if it breaks.
Another aspect to consider here is that due to the heat we're experiencing this summer there are a lot of folks buying air conditioners in areas that don't normally need them. For example, my brother moved to Seattle recently and while it's not 'Kansas Hot' up there it is still pretty hot and most people up there aren't used to it. A portable air conditioner is the perfect solution as it's not a huge investment and you can move it around your home as needed during these steamy days.
Do you have any further questions? You can reach out to us via our contact page. Well, folks, that's all for now. Stop by in a few days for another article. And stay cool!
What's In The Box?
One Honeywell Portable Air Conditioner
One Remote Control With Batteries
One Owner's Manual and Warranty Instructions
One full set easy window installation kit
Important Links