Welcome to Refrigerant HQ for another review article. Today we would like to review the Elitech LMC-300A HVAC Refrigerant Charging Scale. It's one of the most recommended refrigerant scales on Amazon since it has a weight capacity (measuring range) of up to 330 pounds. It also provides accurate weight readings, which makes it a great tool to include in your list of tools.
Because let's face it.
Having the right tools for the job as an HVAC technician can make a huge difference. For instance, charging a lower amount of refrigerant than required can cause overheating of the cooling system. The air coming out of the system becomes hotter instead of being cool. On the other hand, adding a higher amount can create high pressure. Eventually, you'll have a system that is no longer energy efficient and costly to maintain.
Apart from being accurate, what other qualities does the Elitech LMC-300A offer?
We researched and compared this product to many others in its category.  If you want to learn the ins and outs of this product, this article offers an in-depth analysis of what you will get from this product. We hope you'll have all the information you need to make an informed buying decision by the end of this article.
So, stay tuned.
Brand
When it comes to producing HVAC tools, I believe Elitech stands out amongst most brands in the market. Some of the products we've reviewed on Refrigerant HQ include Elitech ILD-200 Infrared Leak Detector and the Elitech IR-200 Dual Sensor Leak Detector.
The company has been in business since 1996 and has a wide range of high-quality products in its online store. The brand's headquarters are in San Jose, California. They also have branches in the United Kingdom, Brazil, Belgium, Canada, and in about 170 countries around the globe. Apart from different refrigerant scale models, other equipment they manufacture include data loggers, HVAC tools, air quality monitors, and software for real-time configurations and setups.
We noticed that some brands typically buy some of the parts they manufacture to include in their products. So if you find a product with an Elitech tag but comes from a different brand, the chances are that some of its parts come from Elitech.
Most of their products come with a user manual and a warranty. You should expect to receive exceptional support from their trained engineers and technicians if you have any issues with their product. On top of that, they also have a Facebook HVACR Technician Community where they provide information regarding their products, including tutorials. If you have any problems with the product you purchased, you can return them within 30 days of purchase. You'll get a replacement immediately.
Product Features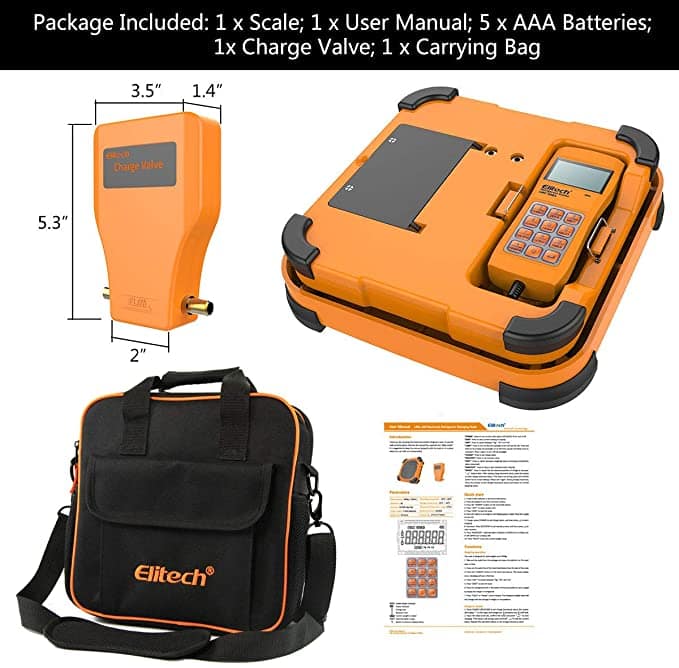 What are some of the features you should expect to see once you open the box?
You should receive a user manual, the scale, a carrier bag, solenoid/charge valve, remote control, and 5 AA batteries within the package. The case or scale is heavy-duty and consists of thick aluminum walls, a 9X9 inch platform such as this cylinder, rubber bumpers on the corners, and rubber feet. The remote control connects to its scale using a flexible cord.
The remote control features a wide display, 12 buttons, and a battery compartment to fit the five batteries. Buttons on it include:
Charge (1) to start removing refrigerant from the cylinder to your HVAC system
Zero (2), to zero out the scale
Unit (3) to indicate the weight in pounds, kilograms, and ounces
Recovery (4) for removing the refrigerant from the HVAC to the cylinder
Lamp (5) to light display screen's backlight
Shift (6)
Run/ stop (7)
Repeat (8) to repeat the last function – either recover or charge
Hold (9)
Power (*) to switch the scale on and off
0
And Enter key
Operating the LMC 300A
Connect the solenoid valve to the scale via the DIN connector and the refrigerant hoses. Turn on the scale on by pressing the power button on the remote control, then wait for it to flash from 0000 to 9999 to start functioning. Then zero it out. You can test its accuracy to avoid errors before starting the charging or recovery process. Inaccuracy can be costly, especially when charging sensitive HVAC systems.
Place the refrigerant cylinder on the scale and if you want to charge, press the 'charge' button on the remote control, insert the amount you want to install in the unit, and press enter. Press the recover button if you want to recover the refrigerant and enter the amount you want to install.
Once the charge or recovery process is complete, the charge valve will shut off automatically. You will also hear a loud alarm beep, which you turn off by pressing any button on the remote.
Pros
When comparing the Elitech LMC 300A to other products, we found that this unit benefits the user in so many ways. The product has a measuring range of about 330 pounds. You can use it in cases where you will recover or charge high amounts of refrigerants. Besides this, the remote can display three weight metrics, making it easy to convert the values.
I am sure that this scale is durable. The platform has non-slip rubber material, preventing recovery tanks from slipping during the refrigerant recovery or charge process. On top of this, it can also operate in temperatures as low as -10 degrees Celsius to 50 degrees Celsius.
Further, the scale is compact and portable. It has a storage compartment underneath to store the remote control. We found it safe and convenient since it has straps to prevent it from falling. By the way, the remote has a small collapsible handle to help you hang the scale to a wall.
The refrigerant scale is also accurate. Compared to other products from the brand, this unit has an accuracy range of about +/- 0.05% rdg +25g. You are sure that you won't overcharge or recover less or more than you intend.
If you find yourself recovering or charging an HVAC system in a dark area, the remote control has a backlight to help you see in the darkness. The expansive display also ensures that it's easy to use, even in areas where there's direct sunlight.
Finally, the solenoid valve or charge valve is convenient and safe since it uses direct current from the remote controller. It also relies on the remote control function to operate.
Other benefits:
The battery life is around 35 hours
Alarm beeps allow you to know when the charging or recovery stops
Cons
The LMC 300A refrigerant scale has its weaknesses too. I compared it to other products, and we found some limitations we think might be an issue for some users. For instance, the warranty is too short. Offering a one-year warranty for a product of its price might not be appropriate for specific buyers. Therefore, adding a year or so might help.
Another issue is that the remote control connects to the scale via a cord. I found this a bit old school, especially since some scales connect via Bluetooth, which is wireless. Some of the products from Elitech, actually, have smart capabilities. If included in this product, it would contribute to convenience and effectiveness.
I also don't like that you have to replace the batteries. Having to buy batteries can be a bit cumbersome, especially if they don't have a charge.
Conclusion
That's all, folks. We appreciate the time you took to read this article from the start to the end. So, is Elitech LMC-300A worth the money? From the above analysis of this product, we can all agree that it has its strengths and pitfalls. However, this is a product you can rely on for years.
We would recommend it to HVAC technicians who love a product they can use when you need to recover or charge large amounts of refrigerants. It is also easy to know how much refrigerant to recover since it's accurate and how much you will need to charge clients.
For more information on this product, head out to the Amazon Buy Page.
Important Links