Welcome to today's review article of the Superior AccuTrak VPE-GN PRO Gooseneck Ultrasonic Leak Detector, folks. If you are an avid reader of our blog, you already know that I am a big fan of infrared leak detectors. We can all agree that these types of detectors are efficient; you are sure that you will find the source of the leakage after a few slow movements over the suspected area.
But, hey, it doesn't mean that any other method is not worth trying. Ultrasonic leak detectors have become a go-to leak detection method amongst most HVAC technicians nowadays. Instead of detecting the molecules of the refrigerant's chemicals, these units use sound to detect leakages. That's why they are best for finding small leakages in coils, condensers, and joints, among other areas.
The Superior AccuTrak VPE-GN PRO Gooseneck Ultrasonic is one of the most recommended ultrasonic leak detectors you'll find on the market. When you buy this product, it comes as a professional kit; hence, you have everything you need to use it out of the box.
Nonetheless, is this product worth the money? Well, read further to know more about the manufacturer, the product's features, benefits, and cons. By the end of this article, you should have all the information you need to decide whether this product is right for you or not.
Brand
I always like researching the brand whenever I want to buy any product. Why? It gives me the background on the company I am about to associate myself with, the type of products they produce, and why I should trust their products.
The Superior AccuTrak VPE-GN PRO Gooseneck Ultrasonic Leak Detector is a product from Superior Signal Company. The manufacturer has been designing and manufacturing smoke generating and ultrasonic instruments (AccuTrak) for commercial and industrial uses for over 60 years now. AccuTrack is a patented technology under Superior Signal, which makes the product even more unique. They have their manufacturing facility in New Jersey, USA, and have dealers in other parts of the globe, including Sweden and United Kingdom.
Leak detecting products on their website include different ultrasonic leak detectors models and accessories such as sound generators, headsets, probes, carrying cases, and belt packs.
Once you buy any of their products, you will get detailed documents for the product's specifications, literature, and a user manual. A one-year warranty is also provided. Ensure that you register the product upon purchase to activate the warranty. I also wanted to know more about their customer support, and I can confirm they are always available to take care of customer queries and issues.
Product Features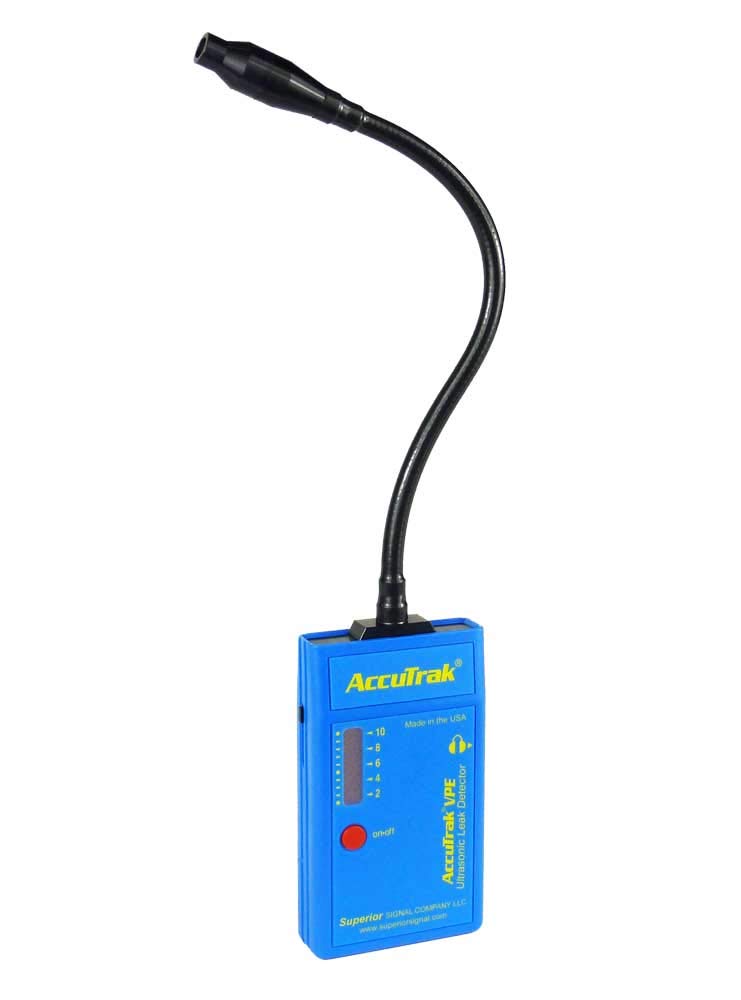 What should you expect to get once you purchase the AccuTrak VPE-GN PRO Gooseneck Ultrasonic?
The product comes as a kit, which include the ultrasonic leak detector, industrial-grade headsets with noise-canceling capabilities, a standard 9-volt battery, and a canvas belt pack. The leak detector features a blue ABS outer shell and a 9.5-inch flexible gooseneck. It also has one control button, the on/off button, a 3.5 mm headphone port on the side, and a 10-element bar graph, which act as the visual output.
How do you operate this leak detector?
I was looking at several videos on how this unit operates, and in my opinion, you shouldn't have any problems using it. Press the power button and hover around the HVAC with the leakage. The sound will get louder when you come closer to the leakage, and diminish as you move away from it. Note that the device has a natural sound conversion technology that allows you to hear sounds as low as 0 Hz to 4 kHz. Also, the bar graph will indicate a value (between 0 – 10) for areas with a high leakage value.
Pros
Now that you know what to expect, why should you be ready to invest more than $500 for this unit? The AccuTrak VPE-GN PRO primarily uses ultrasonic sound to find leakages. The benefit of this method is that it's quick to detect leaks. It will start working once you press the on/off button. You also don't need to wait for it to warm up or calibrate itself.
Here's a video showing how the product works:
Apart from this, the device can detect leakages on all refrigerants. It can also detect different kinds of gases, including Nitrogen. Therefore, you can use it to check leaks in HVACs, and automotive parts, such as a punctured wheel, among other areas.
I have seen people ask whether you can use this product in a windy environment. Fortunately, it does well in such conditions. We experimented with a fan, and the product didn't output any alert signals as the fan was running. Also, since it can pick sounds as little as 0 Hz, detecting small leakages won't be a problem. The noise increases as you come closer to the affected area.
We also think this unit is durable. It can detect up to 1.5 ounces per year and has a running time of 80 to 120 hours. We also inspected the battery, and we noticed that it provides up to 70 hours of running time. You don't have to worry about charging it before you get to work.
The kit comes with everything you need out of the box. You will love the noise-canceling headphones as they make it easy to listen to leakages, especially if you are in a noisy place. The leak detector also has a burst mode to hear leakage when the background noise is too high.
Additionally, the protective case has a molded interior. It ensures that all your tools are safe, especially during transportation.
By the way, the long probe allows you to check for leakages in tight and small places. It also comes with adjustable sensitivity, allowing you to detect leakages from a distance of 20 to 30 ft. from the affected area. However, this may only work if there's little or no background noise.
Cons
Any product you buy on the market has its strengths and weaknesses. We reviewed some of the drawbacks of this product, and one thing I can complain about is its pricing. Of course, ultrasonic leak detectors are new in the market, but they shouldn't have such high prices.
Furthermore, I didn't like the length of the warranty. I don't understand why the manufacturer would offer a short warranty period for such a pricey product.
We also had a look at the user manual. It does offer the necessary details on the product, but I feel the information on the document is not ideal for first-time users at times. However, I am yet to see any complaints about it.
Conclusion
We have come to the end of our review, folks. Given all the information in this article, should you invest in this Superior AccuTrak VPE-GN PRO Gooseneck Ultrasonic Leak Detector or not? If you are a technician looking for a leak detector you can use in different situations, I bet this unit will be the best option for you.
It is designed to fit a variety of commercial and industrial uses, such as in aircraft cabins, tank vessels, and freezer door gaskets. We also loved that this unit is still effective in noisy areas. The sound generator distinguishes between the background noise and the sound coming from the gas.
For more information on this high-end leak detector, click here to go to the Amazon product page.
Important Links