We reviewed the Robinair RG3 in a previous article. Based on its size, efficiency, performance, and durability, we loved this product and recommended it to people looking for a recovery machine for smaller recovery projects and are on a budget.
For today, we'd like to review the Robinair RG6 Portable Refrigerant Recovery Machine. Although they might have some similarities, to me, this product is a big brother to the RG3 in terms of size, performance, pricing, and the level of recovery it can perform. The machine is recommended for longer recovery processes in commercial and industrial premises since it comes with a 3/4 HP power rating. Comparing it to the RG3, which has a 1/3 HP, it's quite efficient for such jobs.
Want to know more?
As usual, we did an in-depth research on this product and put it to the test to see how well it performed. In our opinion, everything about this unit impressed us a lot. Read further to learn more about Robinair – the brand manufacturing the product, the features, pros, and cons of this product.
Brand
When reviewing any product, I always have a habit of learning about the brand manufacturing it. This information gives me a hint of what kind of products to expect from them. I also like looking at positive and negative reviews to know what other buyers think about the brand.
If you are looking for impressive HVAC and automotive tools, you can trust Robinair products. They have a wide range of products ranging from charging scales, leak detectors, A/C fittings and adapters, thermometers, vacuum pumps and gauges, etc.
Apart from their high-quality products, the other thing I love about this brand is the support they offer to customers. They offer one-year warranties for all products, detailed user manuals in different languages, videos, replacements and refunds for defective equipment, and a reliable customer care service. I saw some buyers on Amazon saying they got refunds for their products as soon as they sent the damaged ones to them. The brand's website also provides a list of repair shops and trusted suppliers around different regions in the US.
Some of the Robinair products we've reviewed on our website include:
Product Features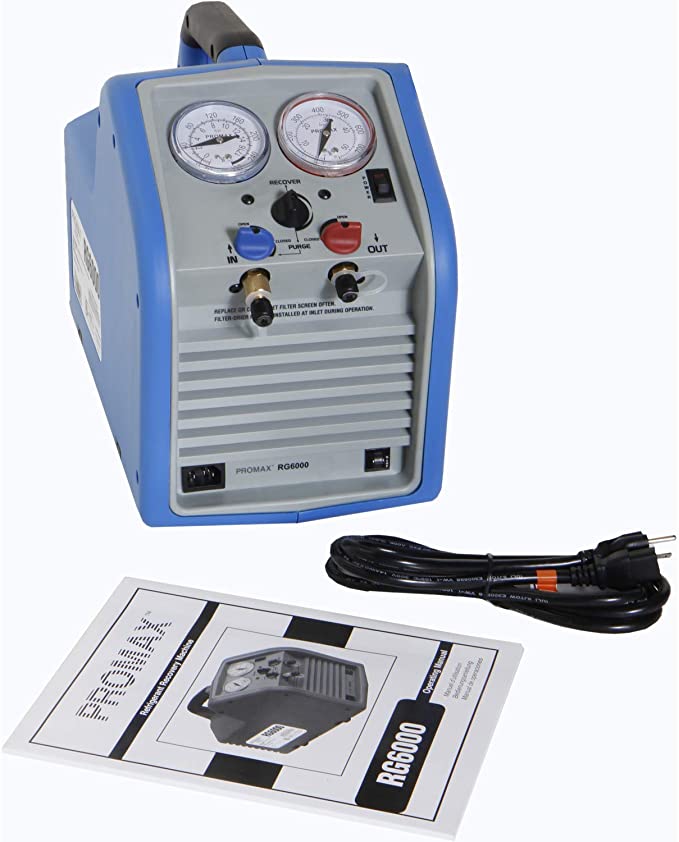 Inside the package, the manufacturer provides the recovery machine, a detachable power cord, and a user manual. You can also download the manual from the RG6 product page on Robinair's official website.
The Robinair RG6 Refrigerant Recovery Machine is a portable unit that measures 17 X 9 X 12 inches and weighs 27 pounds. As you can see, it's bigger than RG3. The RG6 features a rugged case, which strengthens it in terms of durability and its ability to function in extreme weather conditions. At the bottom, the unit has four feet, which provide the required stability when placed on any surface. You will also find a carry handle at the top to help you carry it with ease.
At the front is a control panel, which runs from the bottom all the way to the top. Some of the controls present on this device include a power port to insert the power cord, an inlet and outlet valve, inlet and outlet fittings, a recover button with a self-purge option, a power button, and large oversized pressure gauges.
Note that the inlet fitting has a filter screen behind it to prevent refrigerant contaminants from getting into the compressor.
The unit has an oversized (twin/dual cylinder) condenser, which cools the machine in hot conditions. The dual cylinder also quickens the recovery process. It also has an oil-less compressor; hence, you can use it to recover different refrigerants, including HCFCs, CFCs, and HFCs. And that includes R-410A. The recovery unit also has a properly positioned fan, which cools the compressor coils and condenser at high temperatures.
Pros
Let's start with the performance.
When reviewing this factor, I usually look at the unit's power and pressure ratings. The RG6 has a power rating of 3/4HP and a pressure rating between 400 PSI and 550 PSI. With both of these ratings, you can be sure that you'll be recovering refrigerants out of any large HVAC system within the shortest time possible, whether you are recovering the refrigerant in liquid or vapor forms. Furthermore, thanks to its oversized condenser, you can use it in high temperature conditions, and you can use the unit for a long time without it overheating.
How user-friendly is the RG6?
This product can be used to recover refrigerants in liquid, vapor, or when using the push-pull methods. The user manual provides all the instructions on setting up the unit for the method you want to use. Once the recovery process is complete, the unit with auto shut. The auto shut switch is also essential, especially if the pressure goes below 400 PSI or above the 550 PSI. It, therefore, enhances safety when using this product.
If you are looking for a recovery machine you can use to recover different refrigerants, this one will do the job. Various features on the unit facilitate this. One, the purge function eliminates the remaining refrigerant from the machine once the recovery process is complete. Secondly, the filter dryer and screen also prevent the contaminants from the refrigerant from getting into the unit. And thirdly, the oil-less compressor doesn't leave any refrigerant residue inside the machine.
On the other hand, Robinair recommends you to use a filter dryer to recover one type of refrigerant to reduce the chances of contamination. Purge the unit with nitrogen in case you want to recover a different type of refrigerant as well.
I know you are wondering how portable the Robinair RG6 is. Well, it weighs 27 pounds, which makes it easy to carry, and the rugged case doesn't break easily. The manufacturer also includes a carry handle to enhance portability, especially when climbing a ladder or moving it into tight spaces.
Also, I have to say that I enjoyed using this user manual, by the way.
Cons
Despite how effective this recovery machine is, I still found some weaknesses. One thing I have an issue with is the pricing. Compared to the RG3, the price of this unit is high. But you can understand the reason, especially when you looking at the pricing.
The other issue I have is the warranty period. Even though this unit is durable, I think Robinair should think about providing a longer warranty to users. It will give you peace of mind. On the other hand, please note that the warranty is effective and will activate once you register the product.
Conclusion
We have come to the end of our review today, folks. We hope you have all the information you need to know about the Robinair RG6 Refrigerant Recovery Machine. You can expect to receive a high-performance unit that can recover refrigerants in liquid, vapor, or both forms (via the push-pull method).
This product would be an ideal gift for any HVAC technician who works with industrial and commercial HVAC systems. It will also help mechanics who want to service an automotive AC. And since you can recover different types of refrigerants with this product, it guarantees you will be using it for a very long time.
If you'd like to buy it or know what other customers think about the Robinair RG6 Refrigerant Recovery Machine, click here to view its Amazon Buy Page.
Important Links