Whynter 14,000 BTU Dual Hose Portable Air Conditioner (ARC-14S)
Pros
Rated To Cool Rooms Up To Five Hundred Square Feet
Includes Remote Control, Carbon Air Filter, Washable Pre-Filter
Features Eco-Friendly CFC-free Green R-410A Refrigerant
Operates in Three Modes: Air Conditioner, Fan, or Dehumidifier.
Includes Three Fan Speeds
Cons
Some Complaints of the Unit Being Noisy
The Unit is Large at Nearly 40 Inches Tall
Window Kit Adapter is Only Partially Adaptable
Cold Air is Released Only Vertically
If You Have A Room Greater Then Or Less Then Five-Hundred Square Feet You May Want To Look Elsewhere.
Hello everyone! And welcome back to RefrigerantHQ. Today, we are proud to offer our comprehensive review of one of our favorite 14,000 BTU portable air conditioners: the Whynter Dual Hose (ARC-14S). You may have noticed that we've expanded our knowledge base to include cooling units. This article is a fine addition to our growing collection of air conditioner reviews. Portable and window air conditioners are among the primary machines that use refrigerant. And, being the RefrigerantHQ, we feel as though our knowledge repository should also include the units that refrigerant is used in.
May just started and the temperature has already been over 100 degrees in part of the country. Even more, some of these hot areas were in the 50s only a few days ago! This whiplash-like change in temperature can catch many people off guard. For example, I'm sure there are people out there who have not prepared for hot summer days yet. When was the last time they checked their HVAC system? Does the cooling function even work anymore? Turning on the air conditioner after a long winter season could be a surprise to many people with older central cooling systems. Often times, these same people will opt to purchase a portable air conditioner at least to use for the short term. They are much cheaper than to replace an entire HVAC system. And this brings us to our current item of review.
What makes the Whynter Dual Hose so special? Are there any drawbacks to this portable air conditioner? What are its best features? We are going to answer these questions, and more. By reading a comprehensive review on this unit you'll be able to have a better understanding of exactly which portable air conditioner you should buy. All of these units will work to cool your room. However, some of them are better for your personal taste. Features and benefits vary greatly with portable air conditioners. Our goal with this review is to give you the tools to help choose which portable air conditioner is the best for you. And, without further ado, let's get started!
Whynter
Before we get to the Whynter Dual Hose, let's learn a bit more about the company. Whynter makes more than portable air conditioners. As a matter of fact, they also sell portable ice makers, portable ice cream makers, deep freezers, and even cigar humidor coolers. The availability of these niche products goes to show that Whynter understands how cooling works. Whynter is pronounced "winter" for a reason: they're products produce cold temperatures!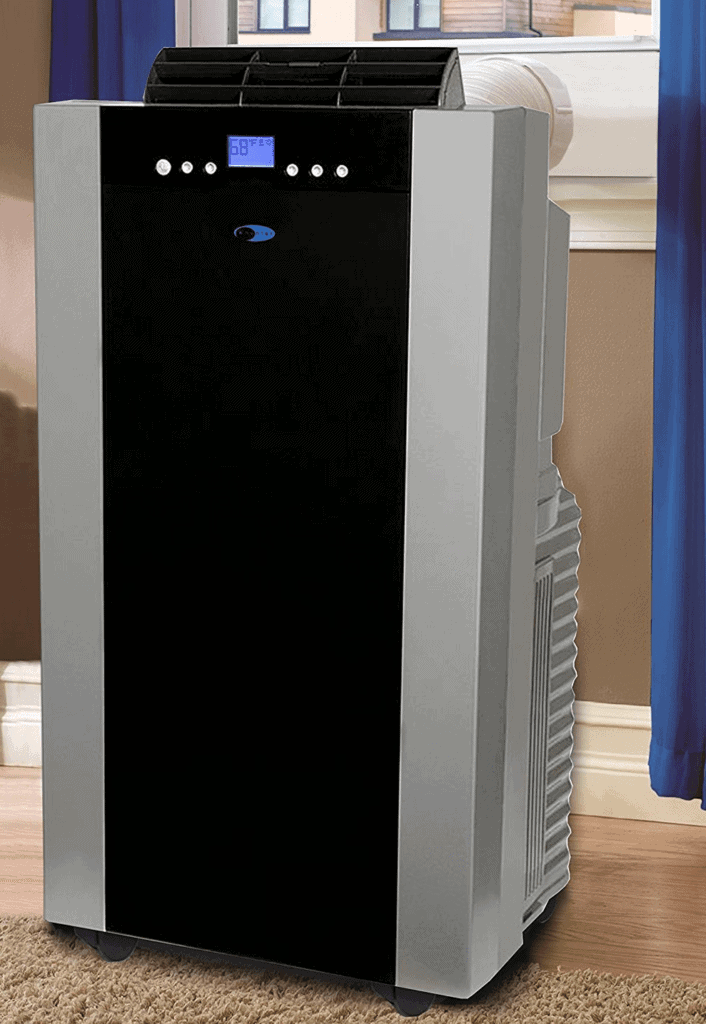 Whynter sells their products at many major stores. These include Home Depot, Best Buy, Sears, Wayfair, Sam's Club, Target, and Brookstone. They even sell their products on Amazon. Speaking of Amazon, check out their amazing online Amazon Store. All of their products should qualify for free shipping. Furthermore, a quick glance at their products shows rave reviews. People love Whynter products! And that's all the more reason we're reviewing the Whynter 14,000 BTU Dual Hose Portable Air Conditioner (ARC-14S).
The company was founded just over a decade ago in California. Their headquarter is actually located in Brea, CA. According to public records, the company employs just over 25 people. Customer support is one of the strongest traits of Whynter. They have an open line and are ready to assist with any customer inquiries. They also feature a comprehensive frequently asked questions area on their website. Additionally, they offer online troubleshooting, product registration, and warranty information on each product they sell.
Knowing a little about a company helps prospective buyers know what they're getting into. And with Whynter, all signs point to great products and customer service. Let's now take a closer look at the Whynter Dual Hose.
Product Features
The Whynter Dual Hose portable air conditioner is rated 14,000 BTU. This means it will comfortably cool a room up to 500 square feet. BTU is an acronym for British Thermal Units. 14,000 BTU is right around the middle when it comes to power options for a portable air conditioner. For a bedroom, you won't need a unit with 20,000 BTU. You'll also probably need more than 4,000 BTU.
The Whynter Dual Hose comes with numerous features. We mentioned some of them in our introduction list. For example, this portable air conditioner features eco-friendly CFC-free R-410A refrigerant. It also has lead free RoHS compliant components. This is important to many families who care about keeping their home safe from dangerous chemicals. One of the top features of this portable air conditioner is this: it has a dual hose function.
The unit has a dual hose which means it has one air intake hose and one air exhaust hose. This is important because the air intake hose brings air into the unit from the outside. This cools off both the compressor and the condenser coil. Portable air conditioners blow cold air. However, they also generate warm air while in operation. The warm air is removed throughout the exhaust hose and to the outdoors. It's clear to see, then, how a dual hose portable air conditioner differs from one with a single hose. Dual hose technology provides fast cooling. Imagine this: you've been working all day and come home to a hot bedroom. You need to be in a more comfortable atmosphere. And you need it quick! Powering on the Whynter Dual Hose will give you instance coldness just when you need it.
Another feature of the Whynter Dual Hose is its advanced auto drain technology. Whynter loves this technology so much that it patented how it works. The portable air conditioner essentially recycles the moisture it collects during its cooling process. This means that it puts the moisture back to work. What does this mean for you? It doesn't need to be emptied regularly. And this is a plus for many people who want a portable air conditioner to simply turn on and do its job. The advanced auto drain technology is how convenience for the owner of this product.
Additional features can be covered in the "Pros" section. We thought it was most important to separate the dual hose and advanced auto drain technology features since they are main staples of this product. But there's much more! Keep reading to see what the Whynter Dual Hose can do for you.
Pros
On Amazon, the Whynter Dual Hose has over 1,500 reviews and over 600 answered questions about the unit. It's a best seller! Just seeing how popular the unit is can be considered a pro. We even championed this unit as our favorite for those in the 13,000-15,000 BTU range. Like the main features, some of the main pros can be found in the introduction list of this article.
This portable air conditioner has three modes of operation. They are air conditioner, fan, and dehumidifier. For someone who is looking for added options, this would be a great choice. Furthermore, the fan has three speed options. Maybe the temperature in your home is currently satisfactory. Instead of cooling it anymore you might want to run the fan to circulate the air in the room. The Whynter Dual Hose is perfect for that.
The Whynter Dual Hose has an energy efficiency ratio (EEF) of 11.2. We came to this number by taking it's BTU (14,000) and dividing it by power consumption wattage (1250). The higher an EEF number is the more efficient the portable air conditioner is. This is a relatively good number when it comes to efficiency with these units.
Another major pro with this unit is that it comes with an extendable exhaust hose. The hose can stretch up to 60 inches. Something so simple can make a big difference and you'll only realize this once you unpack the unit. The portable air conditioner needs to be near a window or other opening to the outdoors. After all, the exhaust goes outside. This is important because a window may be on the far side of the room you want to cool. With an extendable exhaust hose, you can move the portable air conditioner closer to the area you want to cool the most, no matter where the window is. Many portable air conditioners do not come with an extendable exhaust hose.
Cons
There are many amazing benefits to this portable air conditioner. But what about some drawbacks? I think the biggest con is that the window adapter is only partially adaptable. After all, you need the exhaust hose to fit perfectly in your window. But if you have a home like most people, this shouldn't be a problem. The adapter fits anywhere between 20 and 46 inches. If your window can make those dimensions you'll be fine. Otherwise, you might want to look at another portable air conditioner.
The Whynter Dual Hose runs at a max of 56 dBA. Depending on your sensory perception this might not be too loud. However, there have been some complaints that the unit is louder than they thought it would be. Even so, many of these same people appreciate how cold unit makes their room.
One final con we'll mention is that this unit releases cold air only vertically. In the big picture, this shouldn't be too much of an issue. However, some customers have expressed concern about air circulation. They say that, if the air only goes in one direction (up, in this case), the rest of the room will have uneven circulation. That being said, these same reviewers to appreciate that this portable air conditioner cools their room. And that's exactly what this unit is meant for.
Conclusion
Because the Whynter Dual Hose is our favorite for those in the 13,000-15,000 BTU range we can't recommend it enough. What do these features, pros, and cons mean to you? Are you able to forego some quiet in exchange for a quickly-cooled room on a hot summer day? You're going to ask yourself these questions if you are seriously considering this model. The online reviews have overwhelmingly shown a positive liking to this portable air conditioner. If you want to cool a room that's up to 500 square feet this unit might be a great solution for you.
Well, that covers our review of the Whynter Dual Hose. And we hope it was helpful for you. We are going to be releasing more portable air conditioner reviews over the next days, weeks, and months. So stay tuned! Visit us again soon here at RefrigerantHQ. See you next time.
Important Links