Frigidaire FFRE0533Q1 5,000 BTU Window Air Conditioner
Pros
Rated To Cool Rooms Upwards To One-Hundred And Fifty Square Feet
Very Aggressive Price Point Making Product Within Reach For Any Customer
Light Weight Unit Which Makes For An Easy Install
Product Comes With Digital Display And A Remote Control
High Energy Efficiency Ratio of 11.2
Cons
If You Have A Room Greater Than 150 Square Feet You May Want To Go Up In BTU Rating
Complaints Of Unit Not Working Out Of The Box, But Warranty Will Cover You.
Some Complaints Of Fan Rattling Causing A Very Loud Operating Environment.
This Product Is Not Energy Star Certified With The Environmental Protection Agency
Well folks we are officially in the summer season yet again. Memorial Day weekend is already a few weekends behind us and the temperatures over here in Kansas City have not allowed us to forget what time of year it is. The past few weeks have been a constant ninety plus degrees with the ever present wet humidity. You walk outside and you can just feel the moisture in the air. I can't stand the heat, I just can't. You would think by now that I would move further north to escape this Kansas heat but here I am twenty plus years later still in the hot sun.
Well, not really in the hot sun. You see when the summer comes I tend to stay inside for most of the 'tropical' season. I enjoy the cool climate control that my air conditioner provides. The air conditioner that I use is your standard central system that most people across the country use. These are your outside units that route the cold air through your duct work. While these types of air conditioners are your most traditional they remain out of reach to a lot of people. This could be for a variety of reasons. Perhaps their home is too old and doesn't have ducts routed through, or perhaps they are renting a home without a central system. Or, maybe those central air systems are just too expensive. (Trust me, they can get up there in price!)
Whatever the reason is we all should know that there are alternative solutions to the central air system. Some people opt for the portable air conditioner route, but I myself, prefer window air conditioners. I feel like they provide a more permanent solution and they are not in the way of the room. In this article we are going to take an in-depth look at one of these window air conditioners: Frigidaire's FFRE0533Q1 5,000 BTU.
Now, there are many window units out there on the market. The question is will this Frigidaire unit be the right one for me? Or, should I be looking at a different product? Without further adieu, let's dive in and take a look:
Frigidaire
Before I ever get into the details of a product I always like to take the time and do some research on the company and the brand behind the product. Maybe I am too thorough, but I feel that by gaining knowledge on the brand and company we can begin to understand the quality of the product at hand. Brand is important. After all, I'm sure you only buy specific brands of products. I'm betting you're either a Coca-Cola or Pepsi fan, right? The same can apply for air conditioners.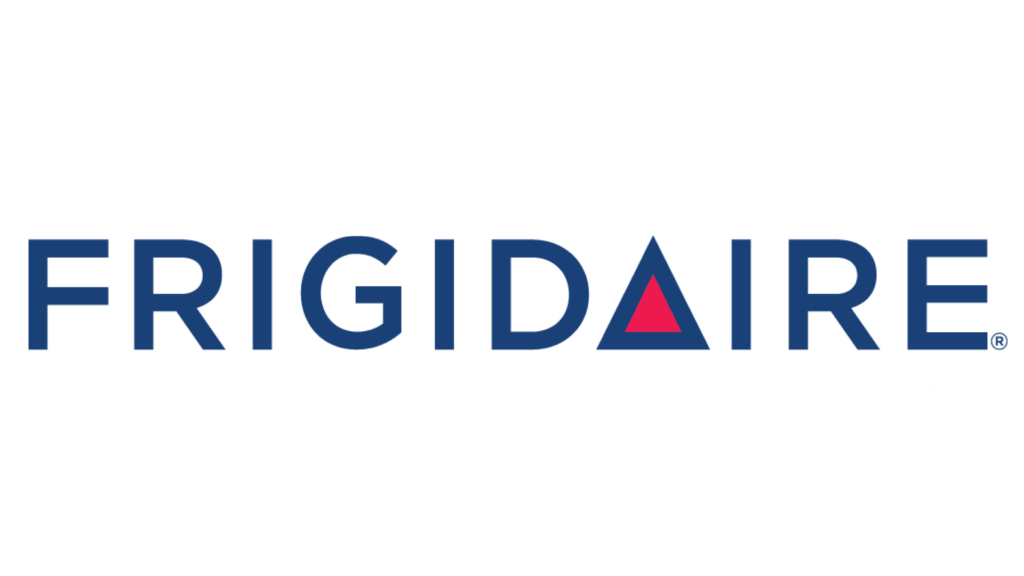 When it comes to window air conditioners the Frigidaire name is one my top picks for brands. In fact, Frigidaire was my runner up in my best branded window air conditioner article. There was a reason that I included them in that article. There name is everywhere, in fact, chances are that you already have a Frigidaire appliance in your home already. It could be a microwave, an oven, a dishwasher, or even your refrigerator.
Speaking of refrigerators, did you know that Frigidaire was one of the first EVER companies to invent, patent, and begin commercially selling refrigerators? Yes, all the way back in 1916 the Frigidaire company was selling refrigerators. That tells you just how much experience that they have when it comes to keeping things cool. Along with that one of the principal investors in Frigidaire was William Durant. Durant was one of the founders of General Motors and as we all know GM partnered with DuPont to invent and patent the trademarked refrigerant known today as Freon. Frigidaire has a rich and diverse history in the air conditioning world. I can proudly state that I can stand behind the Frigidaire name and their quality. They know what they are doing and have been doing it for over one-hundred years.
Product Features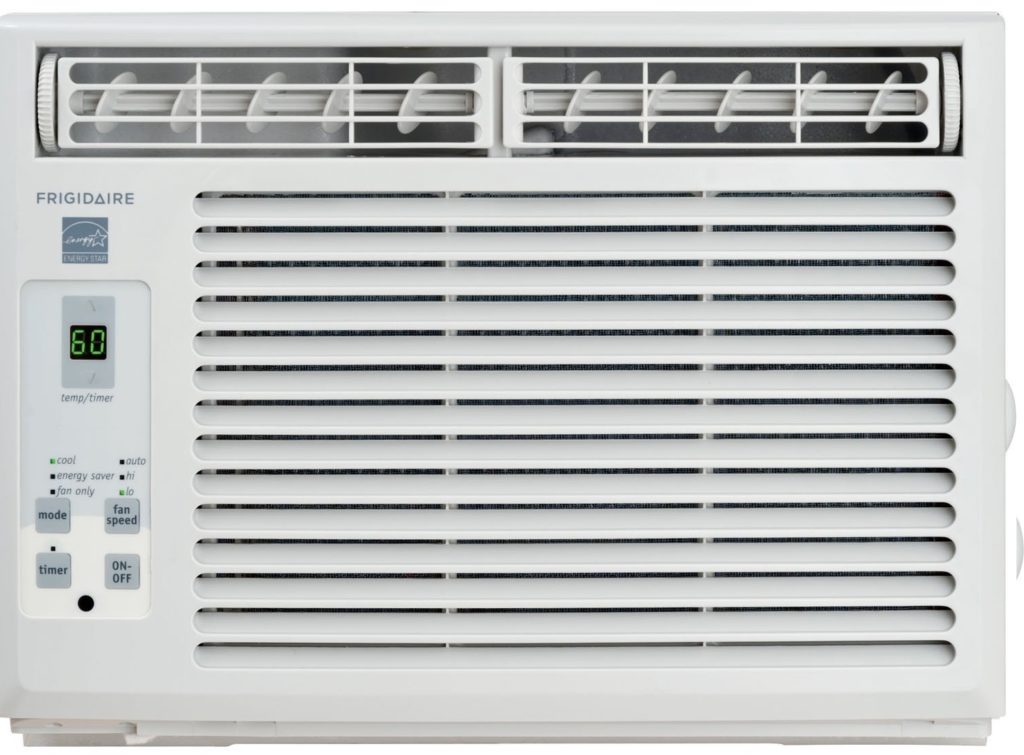 First thing's first folks the Frigidaire FFRE0533Q1 is an introductory unit when it comes to window air conditioners. When I say introductory I mean that in a couple fashions. The first is that this unit has a very low and aggressive price point. There may be a few others out there that can beat this price but I can assure you that their numbers are rare. The second reason why this unit can be considered introductory is due to it's size. You may have noticed that the FFRE0533Q1 has the five-thousand BTUs in it's description.
BTUs, or British Thermal Units, are the standardized way of measuring the cooling capacity of your air conditioner. The higher BTU number the more power your air conditioner will have. But, don't be like some folks who think bigger is always better. The smartest choice that you can do is to pick the perfect sized unit for the area that you desire to cool. If you pick a unit that is too small then your air conditioner is going to be running non-stop all day and night. Not to mention that your room won't be completely cool as it could be. On the other side of the coin, if you pick a unit that is too large for your room then you will be wasting electricity and energy from a more powerful unit and you will also end up with hot and cold spots throughout the room.
Don't be intimated though as picking the right sized unit isn't a difficult task. In fact, all you have to do is find the square footage of your room. To do this you just need to measure the width of your room and the length of your room. When you have those two numbers you multiply them to get your square footage. As an example, let's take a room that is twelve by twelve. If we multiply those numbers we get a square footage of one-hundred and forty-four. Now to determine how many BTUs most professionals recommend using thirty BTUs per square foot that you desire to cool. So, taking this Frigidaire unit's five-thousand BTUs we can determine that it is rated to cool around one-hundred and sixty square feet. Please also note that there are not sizes available less then five-thousand so if you have a room smaller then one-hundred and fifty square feet then this unit will still be the right pick for you.
For this being an introductory unit I am pleased to state that you get a lot of higher end features. Some of these include a digital display, exact temperature control, four way air-flow, and a full functioning remote control. While these may not seem like big deals you don't see these everyday on most five-thousand BTU units. On the other units you'll see no remote control, no temperature control, and a basic turn-dial system for the controls.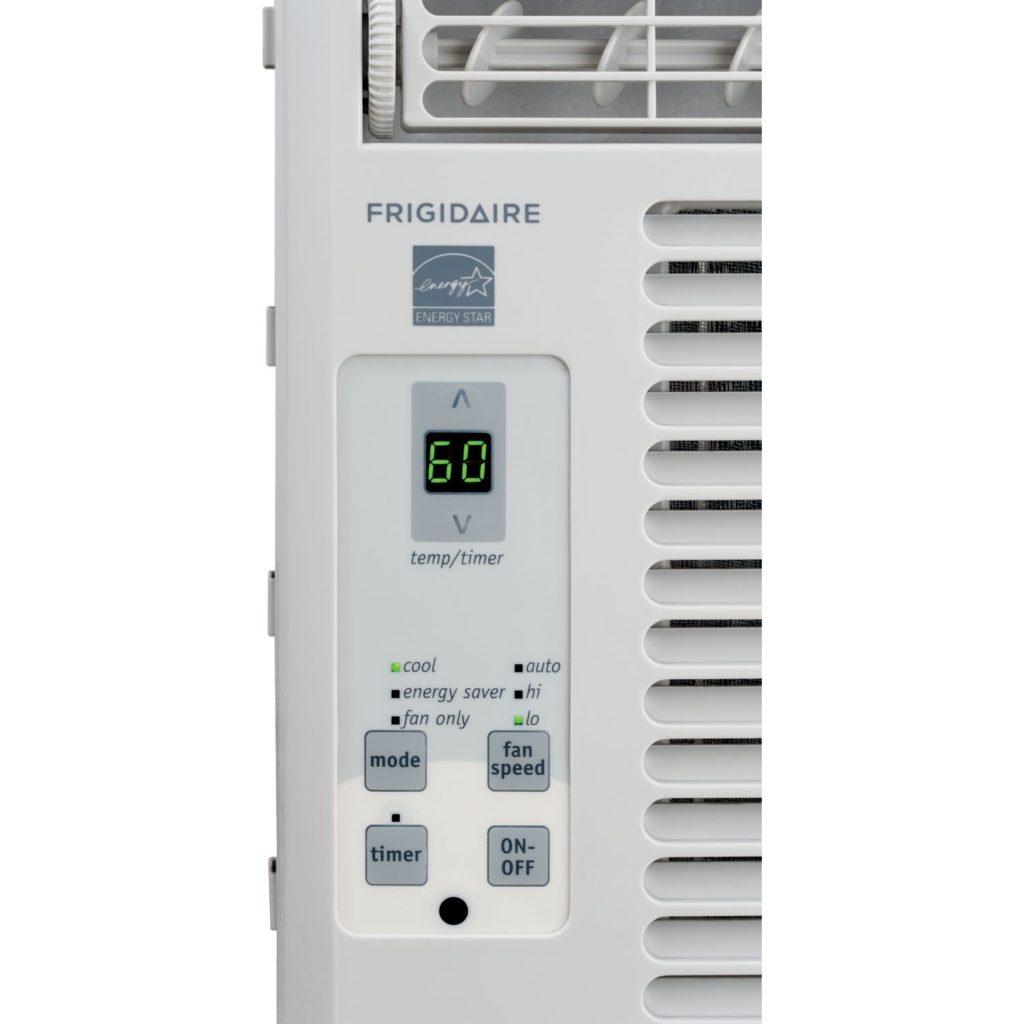 Whenever I would work with my dad no matter the project he would always tell me to 'measure twice, cut once.' Well folks, the same thing applies when shopping for a window air conditioner. This may go without saying but I'm going to say it anyways. You NEED to ensure that the window you are aiming this product for will be large enough to accommodate the window air conditioner. There's nothing worse then buying the unit and then going to install only to realize that it is not going to fit. The Frigidaire FFRE0533Q1 can fit in windows with a width between twenty-three to thirty-six inches. The height is usually not an issue but just in case your window will need to be at or exceed thirteen inches.
This air conditioner comes with a one-hundred and fifteen volt plug-in. Some of you may be scratching your head at this comment but what you may not know is that a lot of the larger air conditioners actually come with a two-hundred and twenty volt plug. (Think of the plug-in for your oven or your clothes dryer.) Luckily, with these smaller BTU units it's not a problem as the one-hundred and fifteen volt can plug in nearly everywhere. The actual cord on this unit comes in at six and a half feet so you should have plenty of length to plug in your air conditioner.
FFRE0533Q1 comes with the very popular HydroFluroCarbon refrigerant known as R-410A. The 410A, or Puron, refrigerant is one of the most popular refrigerants on the market today for home and office cooling. Chances are if you have a newer air conditioner it is using R-410A. The good news here is if you need a repair down the road and need to recharge your air conditioner the cost of 410A is relatively cheap when comparing it to it's R-22 predecessor.
The last point that I'll bring up on this product before I move onto the Pros is the weight and installation. As we are dealing with smaller sized unit the weight isn't going to be too bad. This product comes in at around forty pounds. While that's not very heavy it may still be a bit tricky to maneuver this into your window, hold it in place, and secure it all at the same time. I would recommend a second person to help you install just to be sure you don't lose your grip and have the unit fall out your window.
Pros
Well folks the first and most obvious Pro on this product is the price point. This is one of the cheapest window units that you can find on the market today. The best thing about this though is you don't have to sacrifice your features to achieve this great price. Remember earlier how I stated that you get a digital display and a remote control with the FFRE0533Q1? Well, that's a big deal. Other units, say for example the Frigidaire FFRA0511R1, come with no displays and very basic turn-dial knobs. It's a rare find to find this price level as well as the top-tier features.
While this unit is not Energy Star certified with the Environmental Protection Agency it is worth stating that the Energy Efficiency Ratio on this is rated at 11.2. The standard for EER set by the EPA is 10.0. So, this unit has exceeded the standard by more than a full point. That impressive number means that you are going to save money each month when using this product.
The last Pro that I'll mention here is that the product comes with a one-year manufacturer warranty. That means if your unit gives out ten months from now that you are covered through Frigidaire's warranty policy. This is reason right here is another example of why buying a popular brand name like Frigidaire is important. You get a company that stands behind it's products.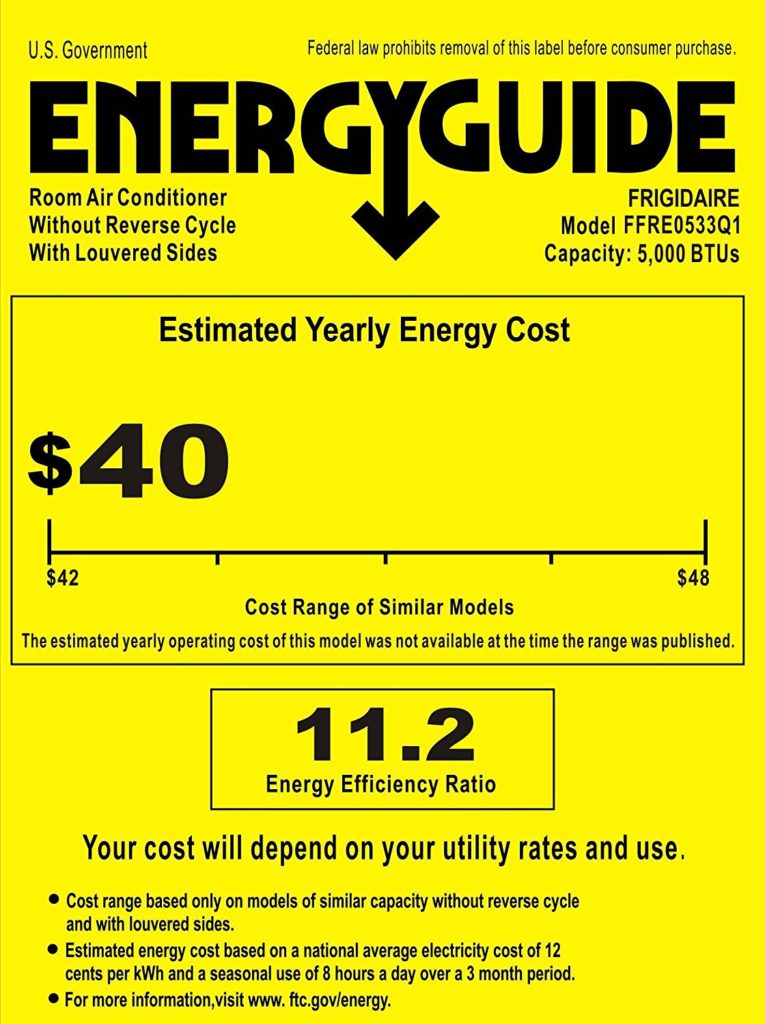 Cons
There aren't a lot of cons on this product but there are a few points that I want to cover and emphasize again before you purchase. The first is that the Frigidaire FFRE0533Q1 is rated at five-thousand BTUs and can only cool rooms up to one-hundred and sixty square feet. If your room is larger then that then it will make sense to increase your BTUs to accommodate the larger space. If you're not sure exactly what size of unit to get please check out our window air conditioner buyer's guide by clicking here. This guide will walk you through the selection process ensuring you get the exact right unit for you.
When you purchase something online there is always the risk of it arriving to your home damaged. That risk increases with the bigger and heavier the package. On top of that, the risk increases even more when dealing with a machine like an air conditioner. Now, I'm not going to lie to you here. The chances of your unit arriving damaged is rare, but there is a chance folks. The good news though is that if this does happen you can always file a claim with Amazon.com and they will take care of the return process. Something that you'll notice is that some of the 'bad reviews,' on this product are a direct result of the product arriving damaged to the consumer's home. This is not Frigidaire's fault and frankly shouldn't be attributed to them.
I mentioned this above in the Pros section but this product is NOT Energy Star certified. While this means you don't get the fancy EPA approval you still do get a quite high Energy Efficiency Ratio of 11.2. Also, the estimated yearly energy cost on this unit is only around forty-dollars. That's a very small expense. (See Energy Saver screenshot.)
The last Con to mention before we move onto our Conclusion is that in some cases after extended use the air conditioner's fan can become loosened. While this doesn't affect performance or overall safety of the unit it can lead to an increase noise or volume when the air conditioner is running. If it was me, I probably wouldn't notice it, but there are others out there who are very sensitive to noise and may find that the extra noise of the fan slightly moving around can drive them crazy. Just be aware of this. It doesn't happen to every unit so it may not even happen to you.
Conclusion
Alright folks we made it. We made it to the conclusion. I hope that by now you are very educated on this product, what it offers, and what kind of benefits you can see from it. The question now though is will you be buying this product? Or, will you be moving onto something else?
If it was me I would say that this Frigidaire air conditioner is absolutely perfect for a bedroom, dorm room, or even a small office. You get the low-end price and you also get the extra features like temperature control, digital display, remote control, and more. If you are interested in purchasing this unit please click here to be taken to our Amazon.com partner.
However, if you are looking for something slightly different in this BTU range let me suggest to you two alternatives:
Friedrich's Chill CP05G10B.

The Friedrich brand name is known to be top quality in the window air conditioner world. If you want the best of the best then this is your unit. Be prepared to pay a bit more though. Quality isn't cheap!

hOmeLabs Window Unit

This is the cheapest of the cheap out there today on Amazon.com. It will get the job done. It will cool your room but it is going to come with the most basic of settings. If you're looking to save a buck or two then this is the unit for you.
I hope this review was helpful and thanks for reading,
Alec Johnson
RefrigerantHQ
Important Links